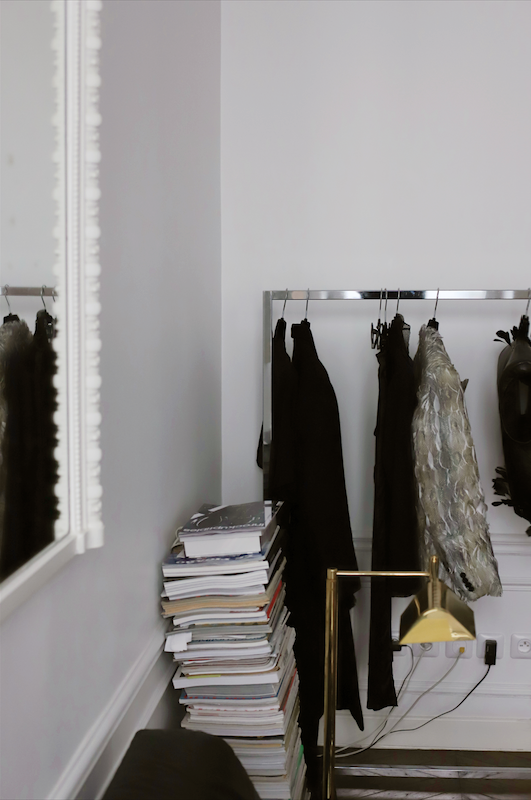 THE LABEL
IN 2019, BURC AKYOL LAUNCHED HIS EPONYMOUS LABEL IN PARIS. IT IS A GENDERLES MIXTURE OF SEXY AND AUSTERITY, TWO SEEMINGLY OPPOSITE CONCEPTS WHICH TO THE DESIGNER REFLECT WHY PEOPLE DRESS: TO FEEL LIKE THEIR BEST SELVES AND CREATE ATTRACTION BY MAINTAINING A DESIRABLE DISTANCE AND MYSTERY.
THE UNIVERSAL DESIRE OF BEAUTY IS IN THE CORE OF EACH PIECE DESIGNED AT BURC AKYOL. COLLECTION AFTER COLLECTION, BURC AKYOL DIPS THIS DISTANT-SEXAPPEAL IN PERSONAL EXPERIENCES, HIS OTTOMAN HERITAGE AND HIS KINKY OBSESSIONS.
VALUES
BURC AKYOL IS ABOUT QUALITY FIRST. FROM HAND-FINISHED TO ENTIRELY HAND MADE ARTISANAL PIECES, EVERY DETAIL ABOUT THE PIECES' MANUFACTURING IS THOUGHT THROUGH TO OFFER THE BEST. THE DESIGNER'S EXPERIENCE IN FRENCH LUXURY HOUSES IS KEY IN HIS KNOW-HOW AND HE DEVELOPS ALL HIS COLLECTIONS IN HIS STUDIO IN PARIS.
THE MATERIALS USED ARE AMONG THE NOBLEST THE INDUSTRY HAS TO OFFER, FROM HIGH QUALITY CASHMERE YARNS, VIRGIN WOOLS TO THE FINEST FRENCH AND ITALIAN SILKS. EXTRA CARE IS GIVEN TO THE SELECTION OF THE SUPPLIERS. THEY ARE ECO-CONSCIOUS AND STRIVE TO MAKE THEIR PROCESSES MORE RESPECTFUL OF THE ENVIRONMENT.
BURC AKYOL IS NOT PERFECT, BUT TRIES TO DEFINE A BETTER STRATEGY IN MATERIAL SOURCING IN ORDER TO BE AS SUSTAINABLY PRODUCED AS POSSIBLE. THIS STARTS WITH ONLY ALLOWING THE COLLECTIONS TO BE MADE IN LOCALLY SOURCED MATERIALS FROM LYON, PARIS OR NORTHERN ITALY TO REDUCE OUR CARBON FOOTPRINT.
THE PRODUCTION IS MADE TO ORDER WHICH ALLOWS BURC AKYOL TO STAY AWAY FROM OVER-PRODUCTION AND LEFTOVERS. THIS IS BETTER FOR OUR PLANET BUT ALSO FOR THE LABEL'S FINANCIAL HEALTH. THESE ORDERS ARE EITHER PRODUCED INHOUSE BY THE DESIGNER HIMSELF AND HIS PARTNERS, IN HIS STUDIO IN THE 8TH ARRONDISSEMENT OF PARIS OR WITH MANUFACTURERS IN PARIS AND NORTHERN FRANCE WHOM THE DESIGNER HAS KNOWN AND WORKED WITH FOR OVER 8 YEARS. THE FARTHEST BURC AKYOL PRODUCES IS WITH IS HIS ITALIAN MANUFACTURER OF KNITWEAR WHO HAVE SUPPORTED THE BRAND SINCE ITS INCEPTION. THEY ARE A FAMILY SIZED FACILITY WITH A PHILOSOPHY FOR QUALITY, HUMAN INVESTMENT AND KNOW-HOW.
BURC AKYOL WANTS TO SHARE WITH HIS CUSTOMER THE LOVE HE HAS FOR ATELIERS AND THE PEOPLE WORKING IN THEM. THEY ARE FAMILY. THIS IS THE REASON BEHIND HIS WILL TO KEEP HIS PRODUCTION LOCAL. FIRSTLY BECAUSE THERE IS BEAUTIFUL CRAFT AND KNOWLEDGE OF TECHNIQUE HE WANTS TO SEE PRESERVED AND TRANSMITTED TO FUTURE GENERATIONS. SECONDLY BECAUSE IT IS HIS BELIEF THAT THE SALARY OF THE HUMAN HAND WHICH WORKS ON HIS PRODUCTION SHOULD BE EQUAL ALL OTHER THE WORLD. HE VOWS TO ONLY WORK WITH ATELIERS AND FACTORIES COMMITTED TO THE SAME BELIEF.