DAVET MEANS INVITATION IN TURKISH, MY MOTHER TONGUE.
THIS SHOW IS AN INVITATION. AN INVITATION TO MY HOME, IN THE 8TH ARRONDISSEMENT OF PARIS, WHERE I AM SHOWING IN THE COURTYARD OF MY BUILDING WHERE I LIVE AND WORK. MY NEIGHBOURS ARE AMONG YOU, SEATED OR HELPING ME DRESS OUR MODELS BACKSTAGE; SOME WILL BE SERVING YOU DRINKS AFTER THE SHOW. IT'S NOT HARD TO GET BACK TO THE CITY AFTER SUMMER WHEN YOU RETURN TO THIS COMMUNITY, BUT FOR THE FIRST TIME IN MY LIFE I FEEL I WAS ABLE TO BRING BACK ENOUGH OF THIS FEELING WITH ME TO SHARE IT WITH OTHERS, WITH YOU.
THIS FEELING IS SELF-LOVE. IT'S THE REASON WHY I RETURN TO PANTELLERIA EVERY YEAR. BECAUSE I KNOW I WILL BE BACK I CAN TAKE MY TIME THERE. TIME THAT ALLOWS ME TO LOOK BETTER, DRESS BETTER, FEEL BETTER, EAT BETTER, TO BE THE BETTER VERSION OF MYSELF. I HONESTLY LOVE ME BETTER IN SUMMER. I LOVE THAT I CAN BE HALF DRESSED ALL DAY AND OVERDRESSED AT NIGHT BECAUSE I DARE MORE WHEN I AM THERE. I LOVE THAT I CAN BE CINEMATIC, DRAMATIC AND THAT I CAN BE HONEST; YOU CANNOT LIE IN THE NUDE. I AM CLOSER TO EARTH IN SUMMER, I AM CLOSER TO MYSELF. PANTELLERIA IS A VOLCANIC ISLAND AND LAVA STONES ARE NATURAL DIFFUSERS OF SCENTS; JUST AS I SOKE SUMMER IN, THEY SOKE IN THE PERFUMES THAT YOU GIVE THEM. THE LAVA STONE YOU NOW HAVE ON YOUR LAP IS A SMALL TOKEN, A LITTLE OF MY SUMMER TO TAKE HOME WITH YOU. IT WILL DIFFUSE A MIX OF SCENTS THAT REMIND ME OF THE SUN, OF THE EARTH, OF THE SEA.
DAVET IS ALSO AN INVITATION TO KNOW MY ORIGINS BETTER, THIS INVITATION IS FOR YOU AND ME BOTH. MY NOMINATION AS A FINALIST FOR THE FASHION TRUST ARABIA PRIZE HAS A LOT TO DO WITH THIS REKINDLED URGE TO DIG DEEPER IN MY ROOTS. I AM TO COMPETE IN THE GUEST COUNTRY CATEGORY AS A TURKISH DESIGNER. BUT I AM ALSO A FRENCH DESIGNER. I AM INVITING MYSELF TO RECONCILE MY ORIENT AND MY OCCIDENT. I WANT TO JOG LIKE A SULTAN AND BELLY-DANCE WITH WORDS LIKE GODARD.
I AM ALSO INVITING YOU FOR MORE, MORE IN THE FUTURE BUT ALSO MORE NOW! MORE, MORE, MORE. MORE LIKE YARDS AND YARDS OF DUCHESS SATIN. MORE LIKE MOTHER-OF-PEARLS INCRUSTED LEATHER. MORE LIKE SILVER YARNS KNITTED INTO WATER. MORE LIKE DRUMS, TRUMPETS AND PERSIAN CARPETS.
MY SUMMER IS YOUR COLL 02 NOW.
PS: YOU WILL SEE ONE SILHOUETTE WITH BLACK HAIR. IT IS AN AFTERTHOUGHT. I SPOKE WITH ARAB FRIENDS, ARAB WOMEN OF WHAT IS HAPPENING IN IRAN NOW. THEY URGED ME TO FORM MY THOUGHTS CONSIDERING THE GLOBAL WORLD CONTEXT AND THE ENERGY CRISIS. THE MIDDLE EAST IS OFTEN THE STAGE OF WESTERN ECONOMICAL THEATRICALS. BUT I DO STAND WITH ALL WOMEN, I ALWAYS WILL. THE BLACK HAIR IS FOR MAHSA AMINI, FOR MY MOTHER, MY SISTERS, MY CARYATIDS.
LOOK 01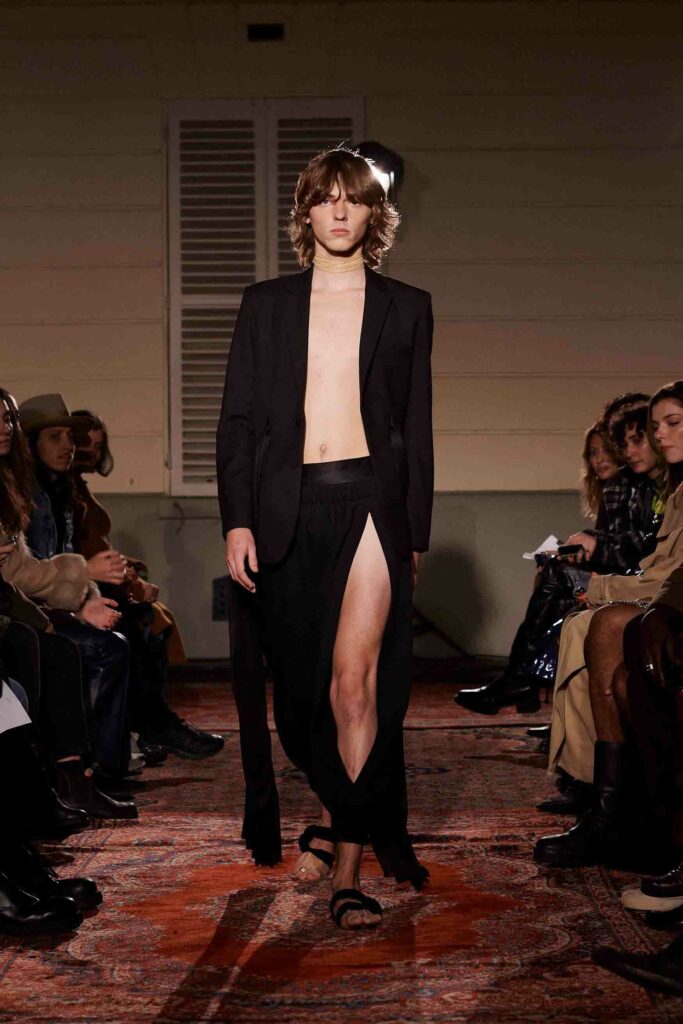 LOOK 02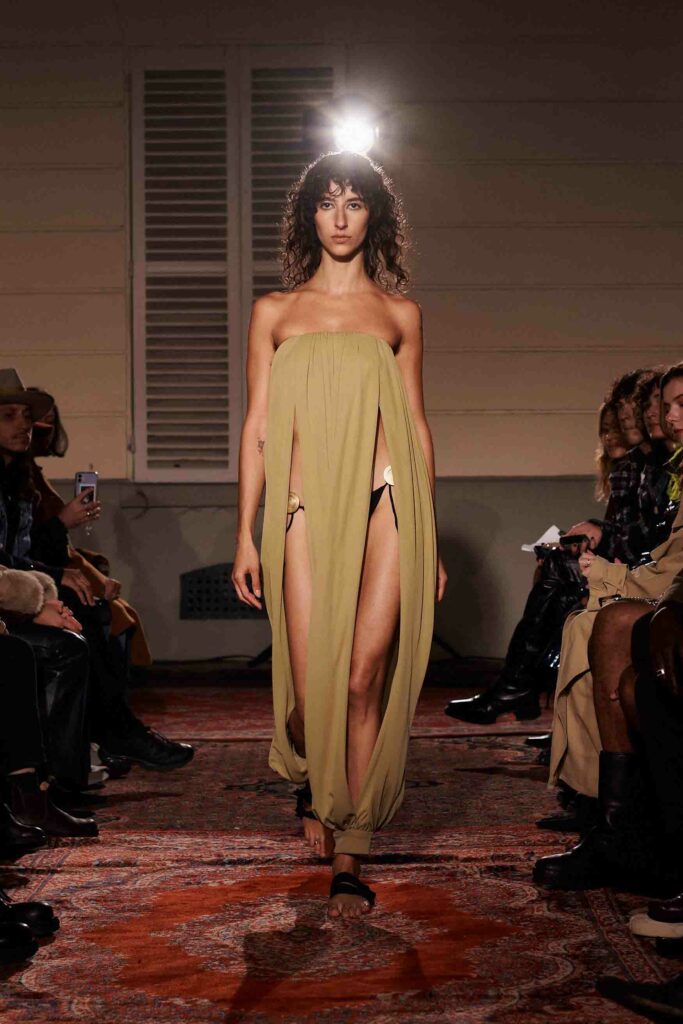 LOOK 03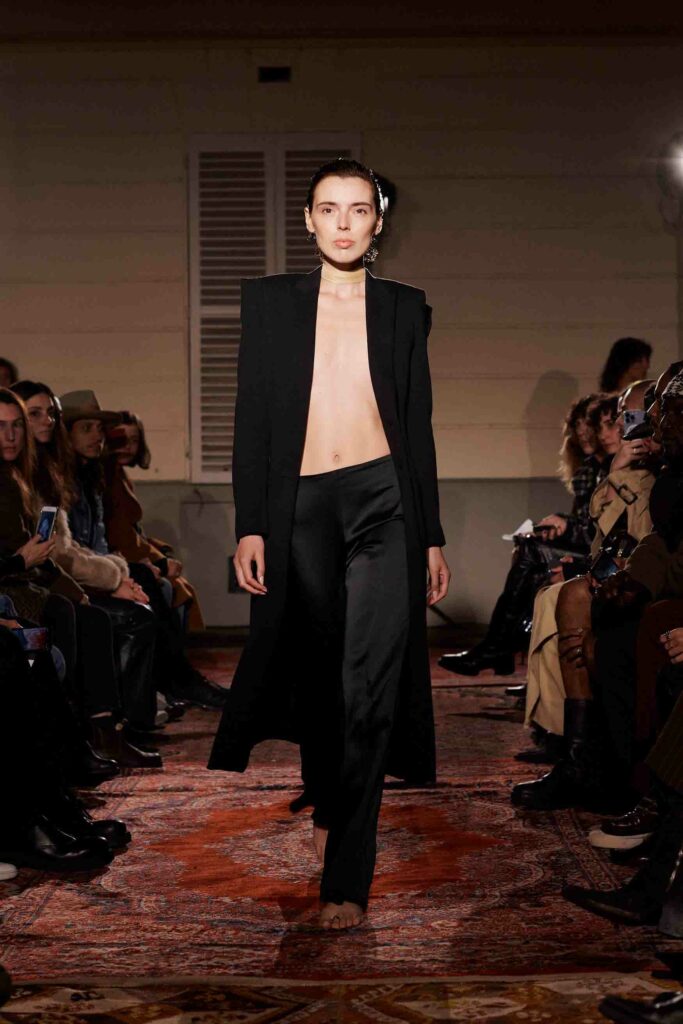 LOOK 04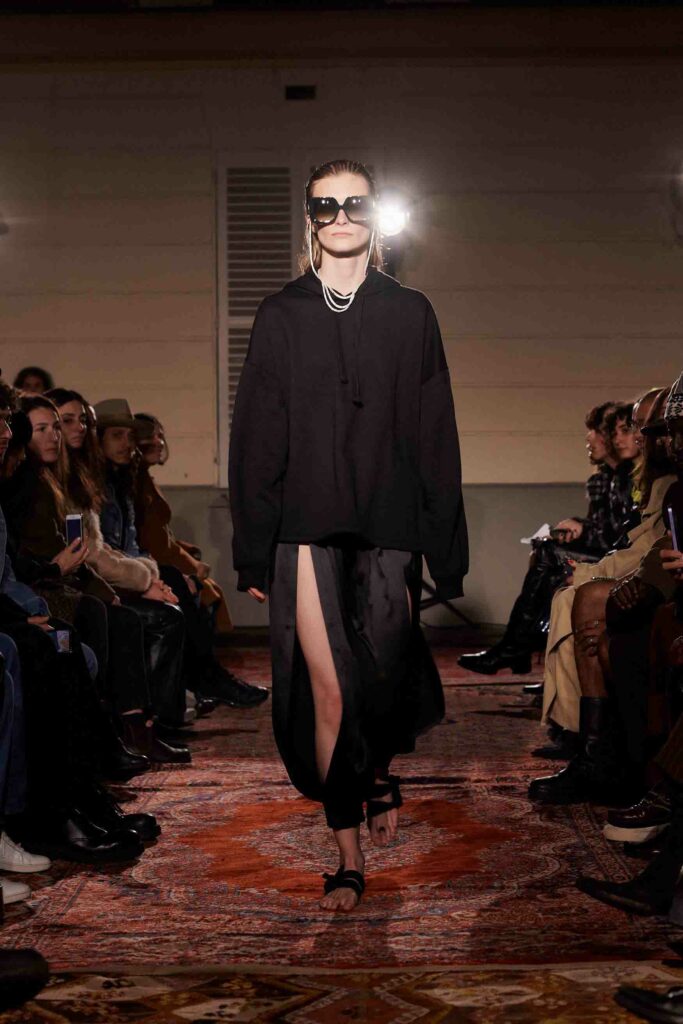 LOOK 05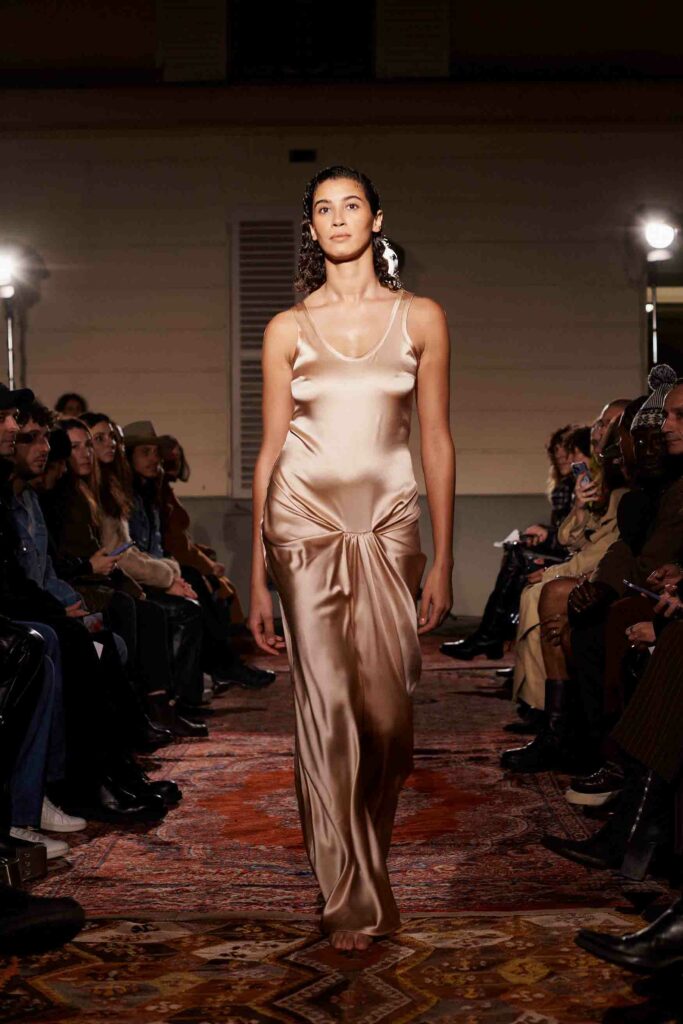 LOOK 06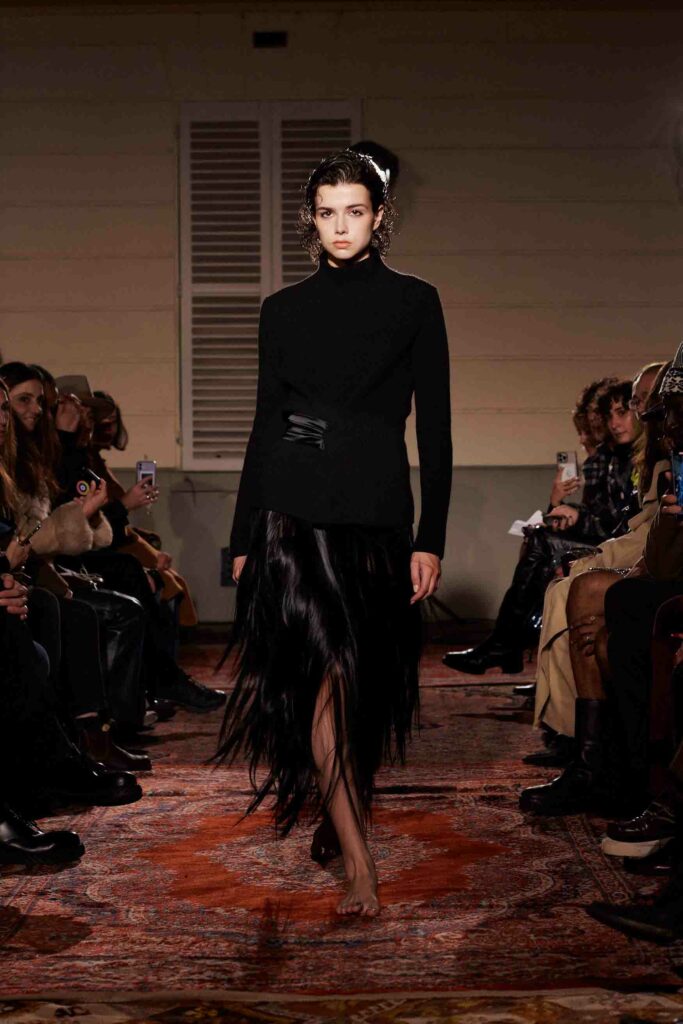 LOOK 07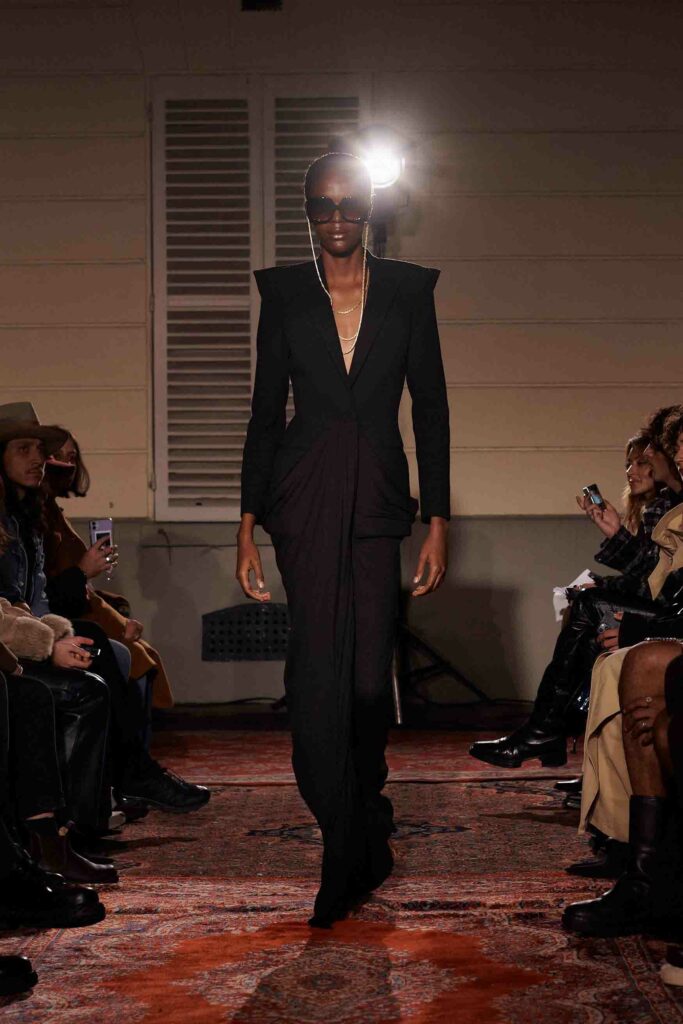 LOOK 08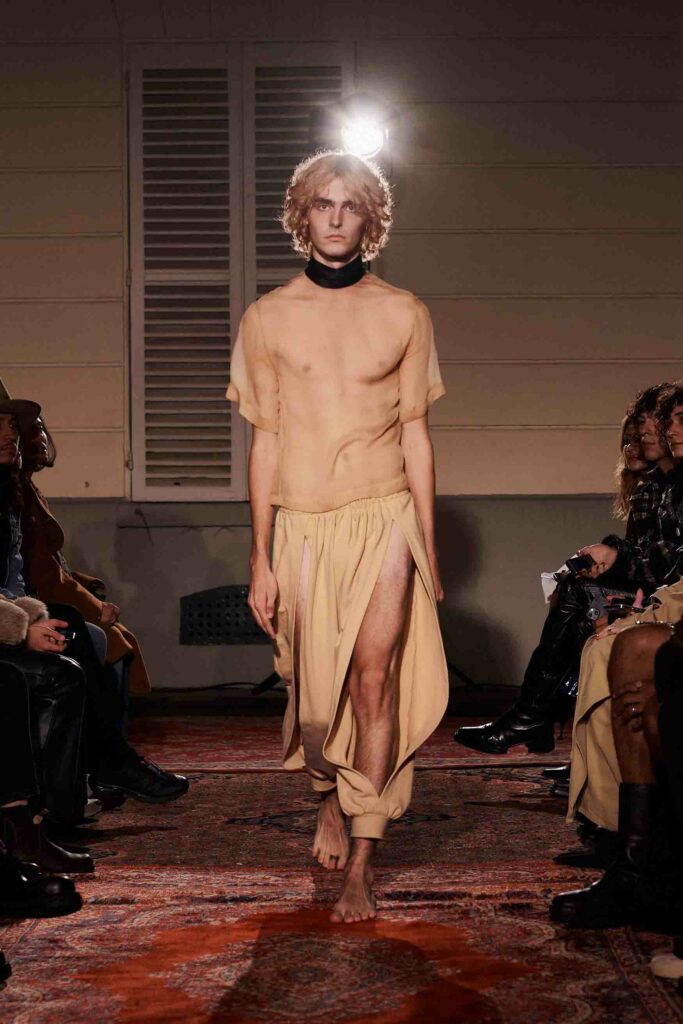 LOOK 09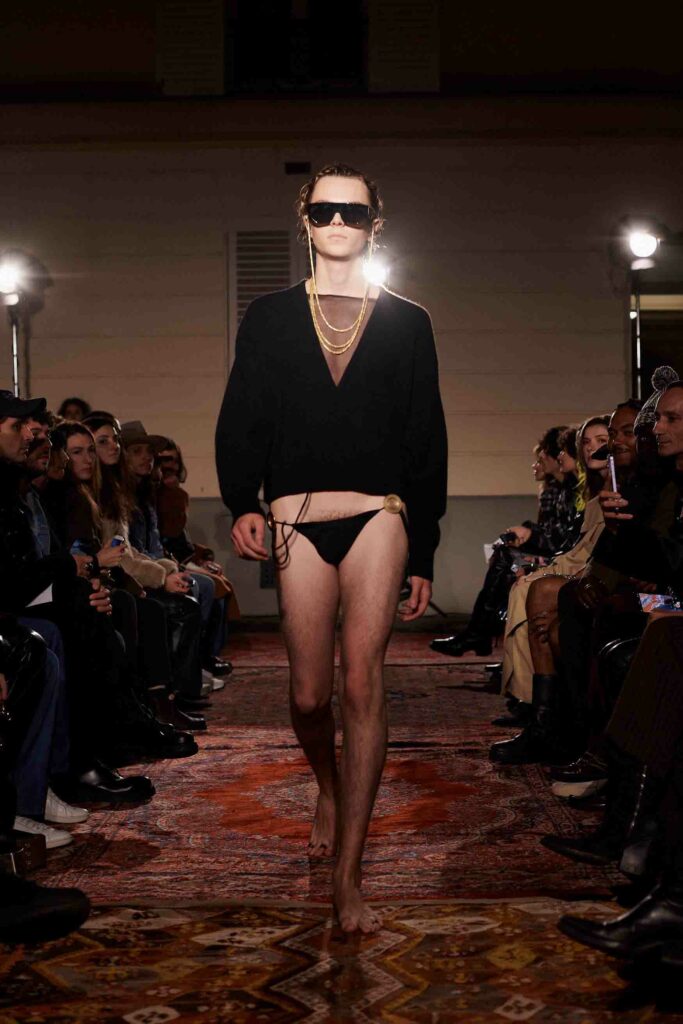 LOOK 10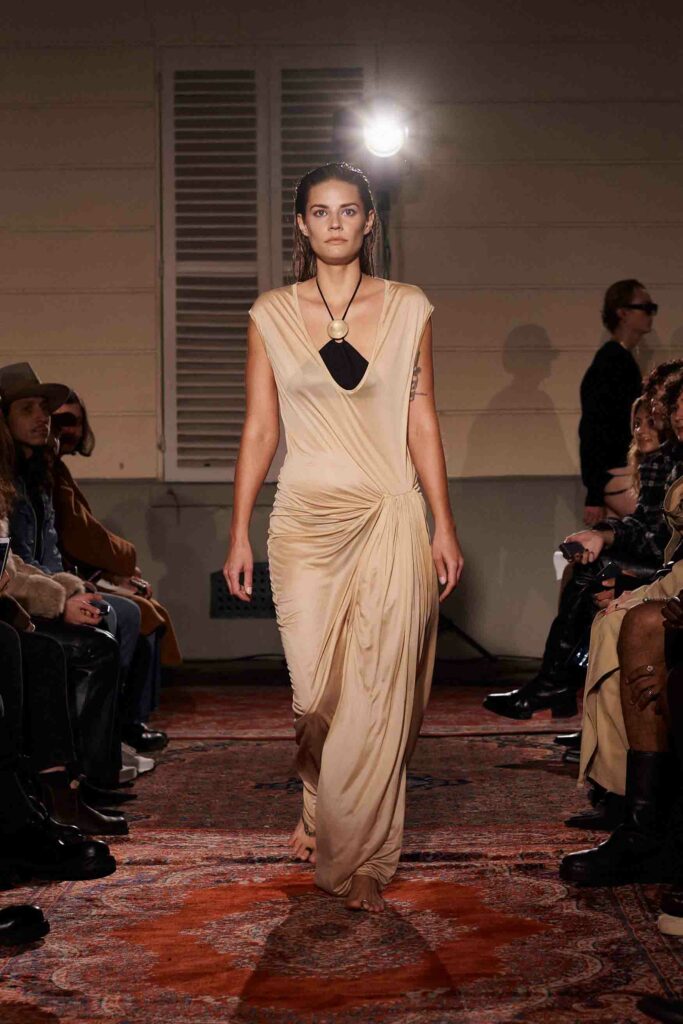 LOOK 11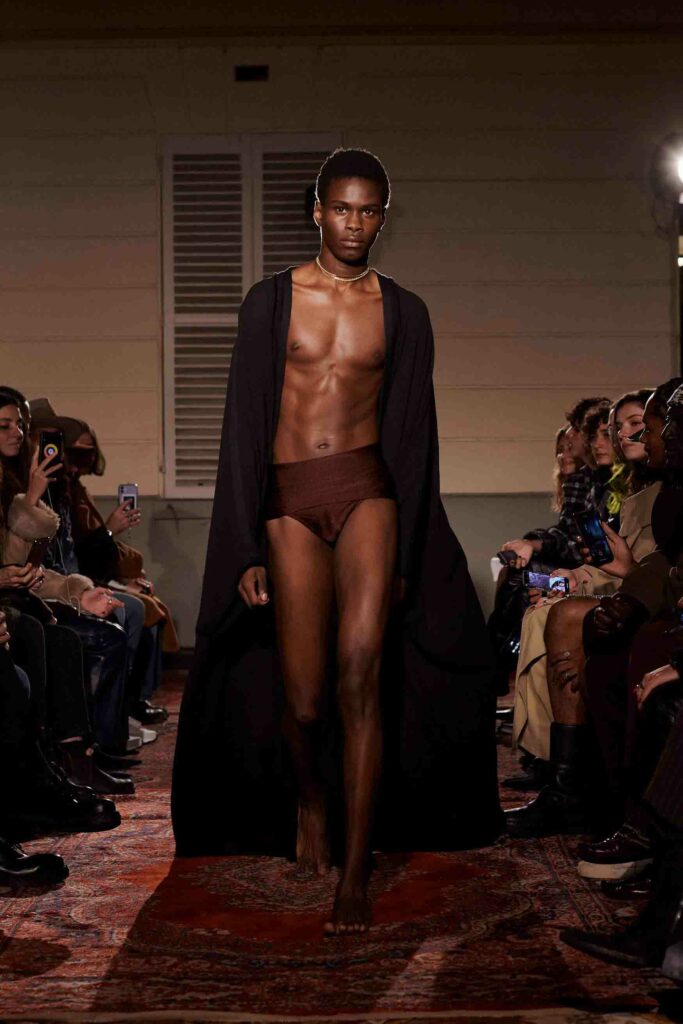 LOOK 12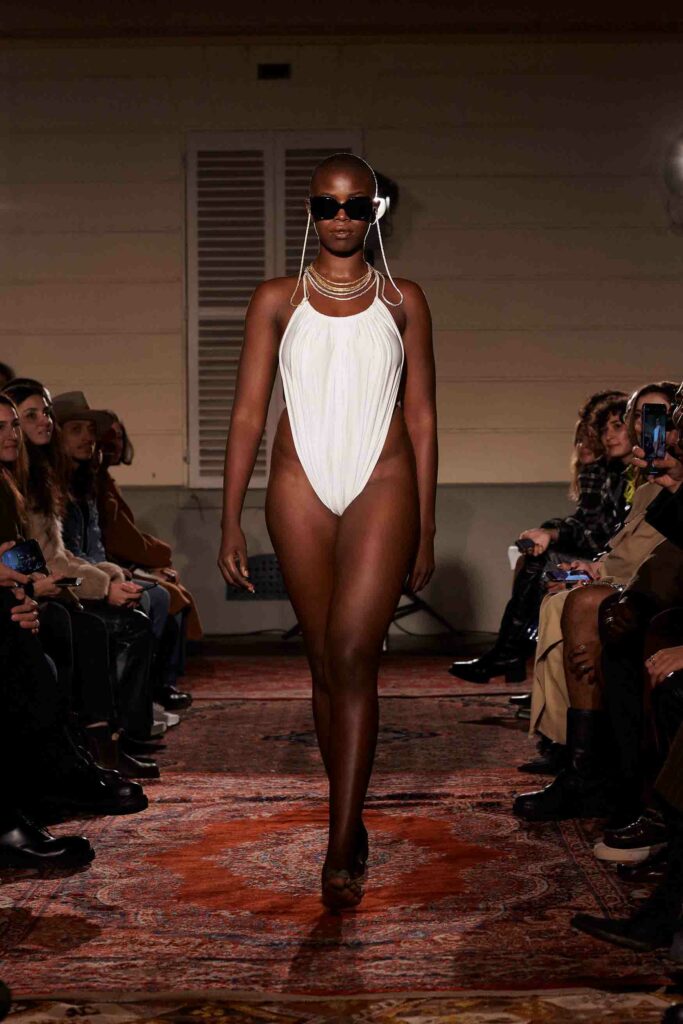 LOOK 13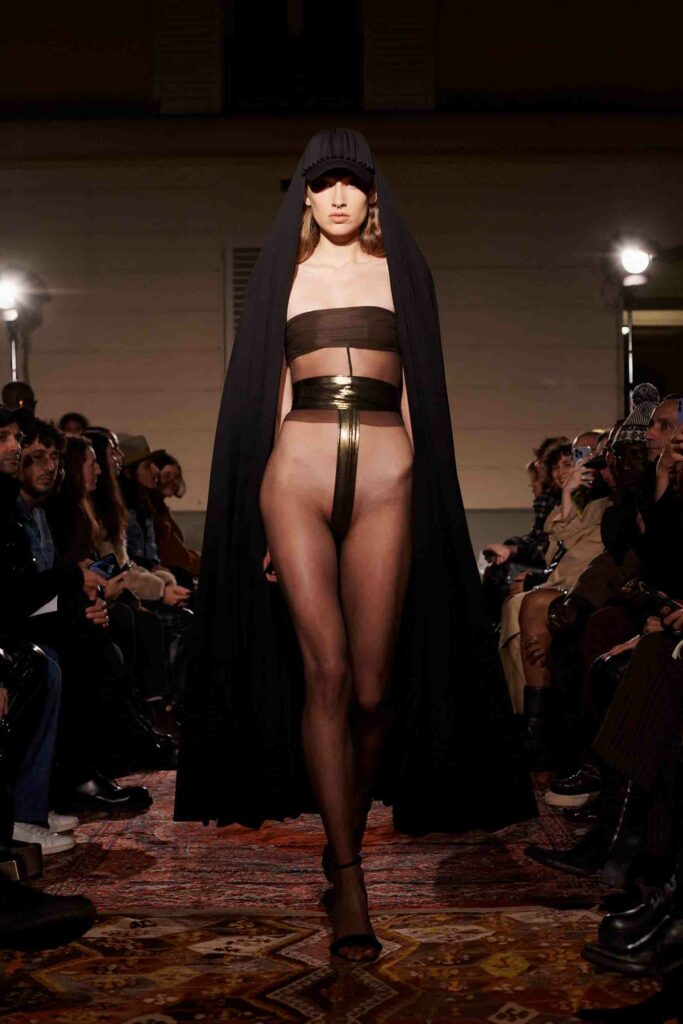 LOOK 14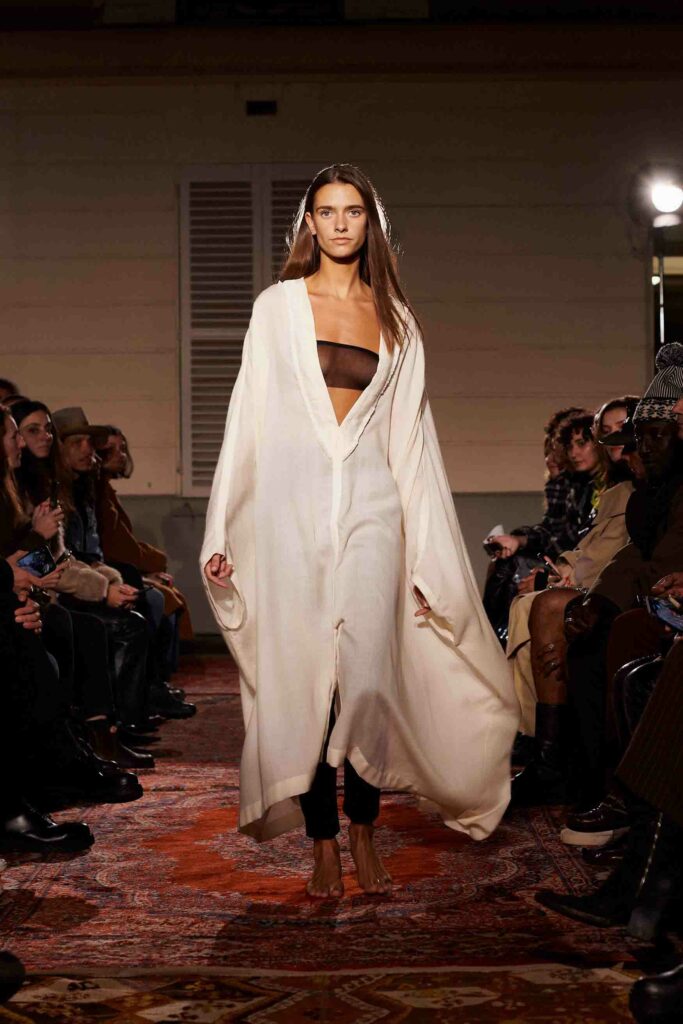 LOOK 15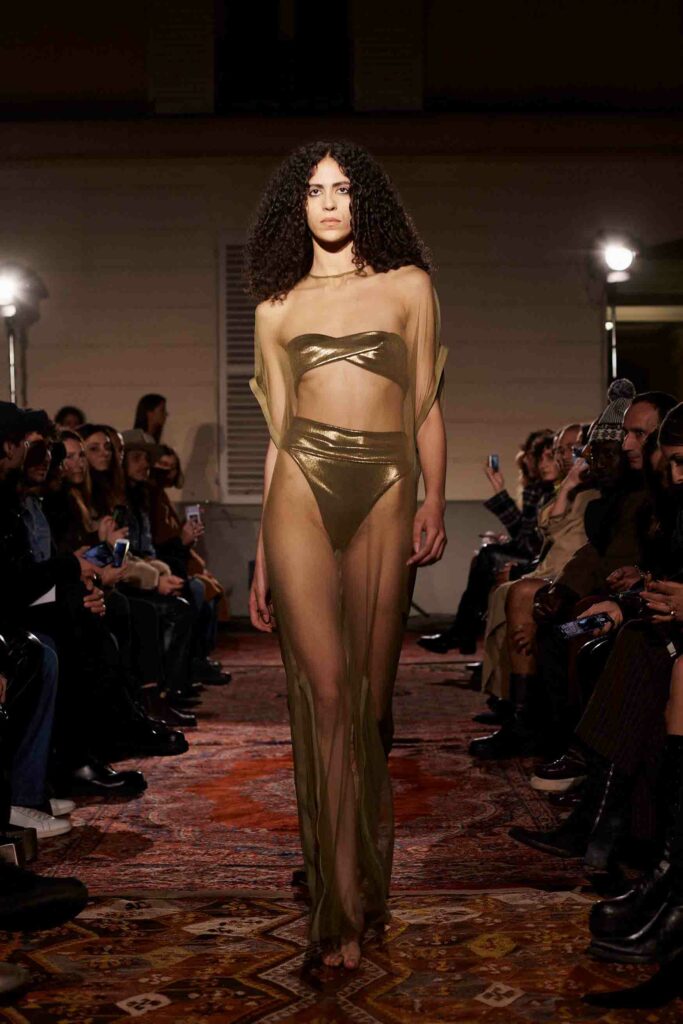 LOOK 16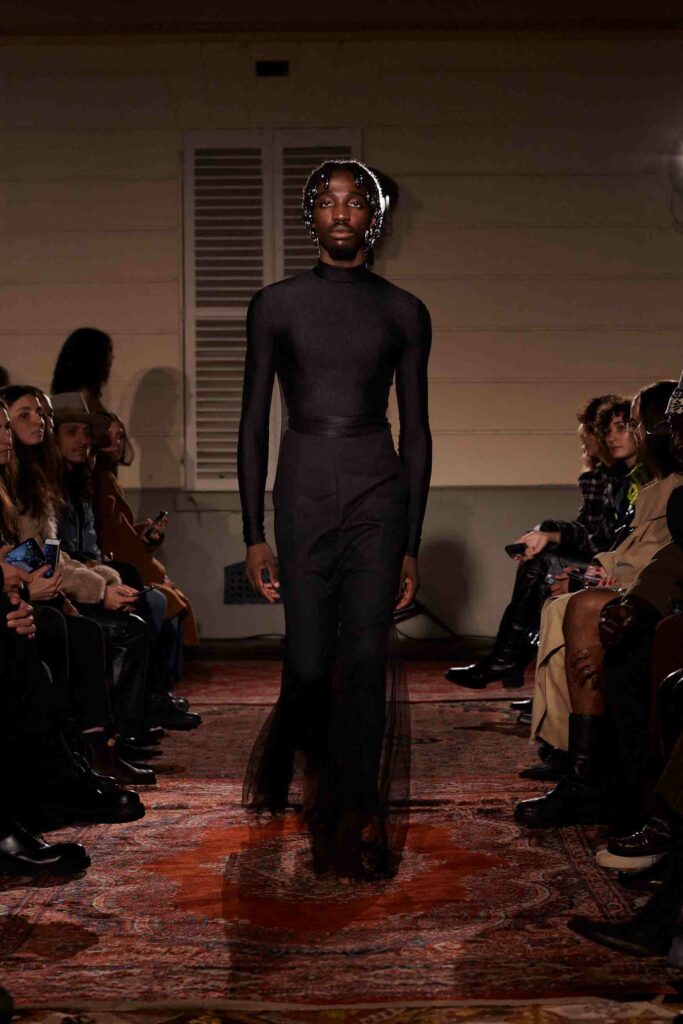 LOOK 17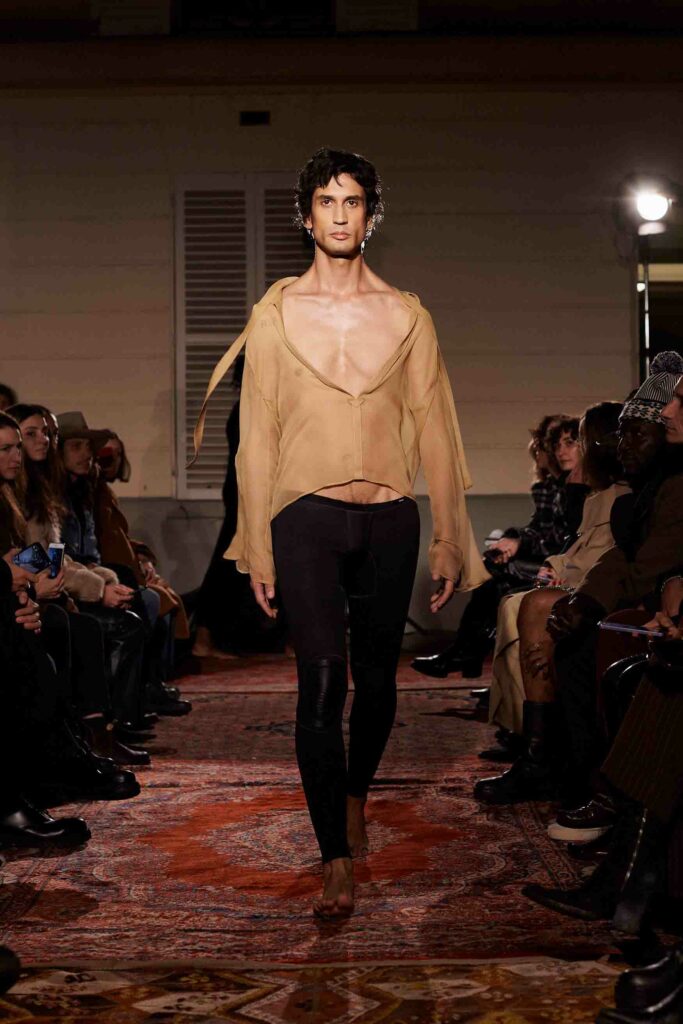 LOOK 18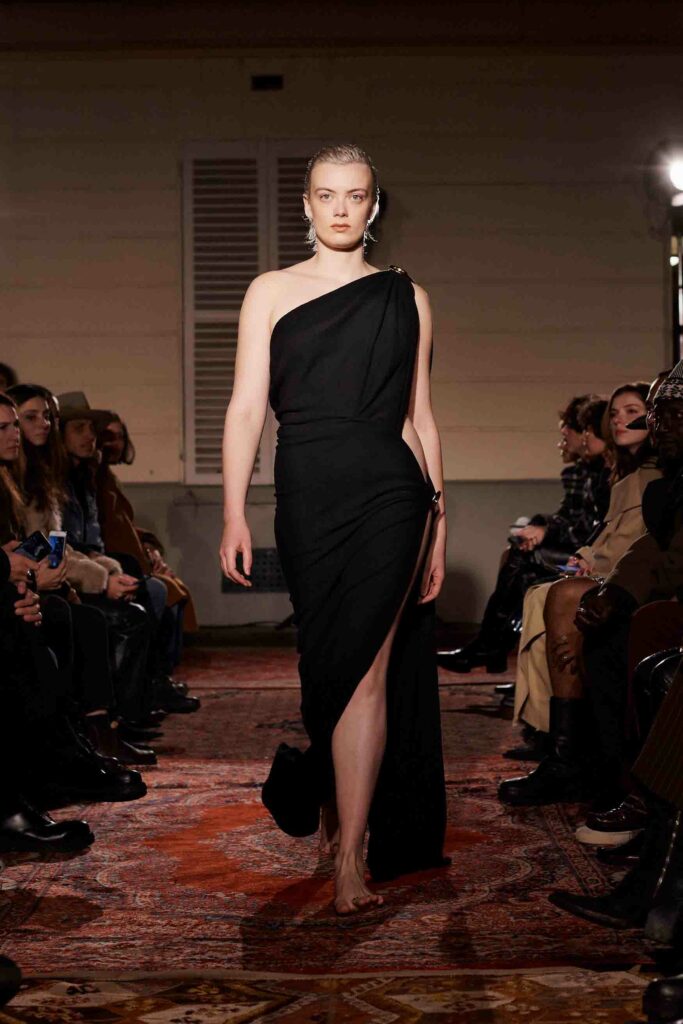 LOOK 19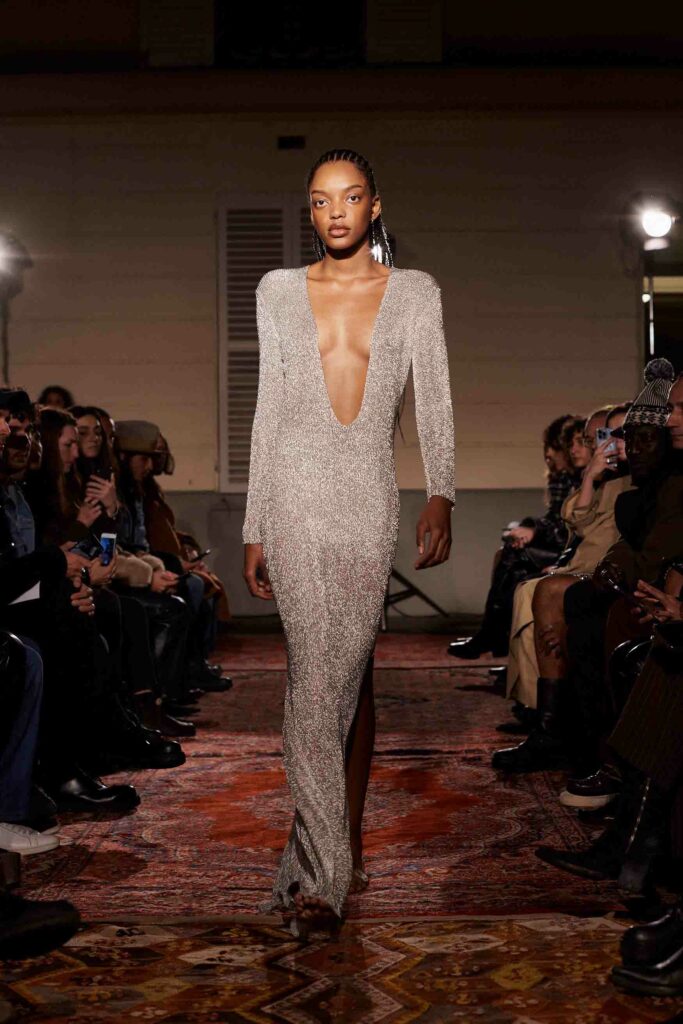 LOOK 20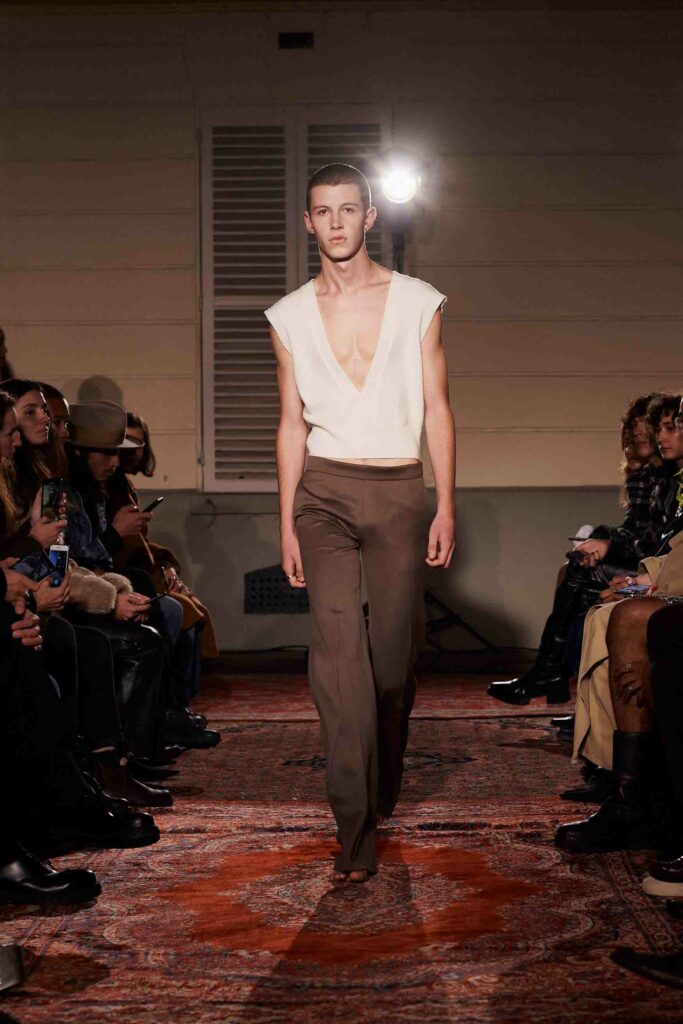 LOOK 21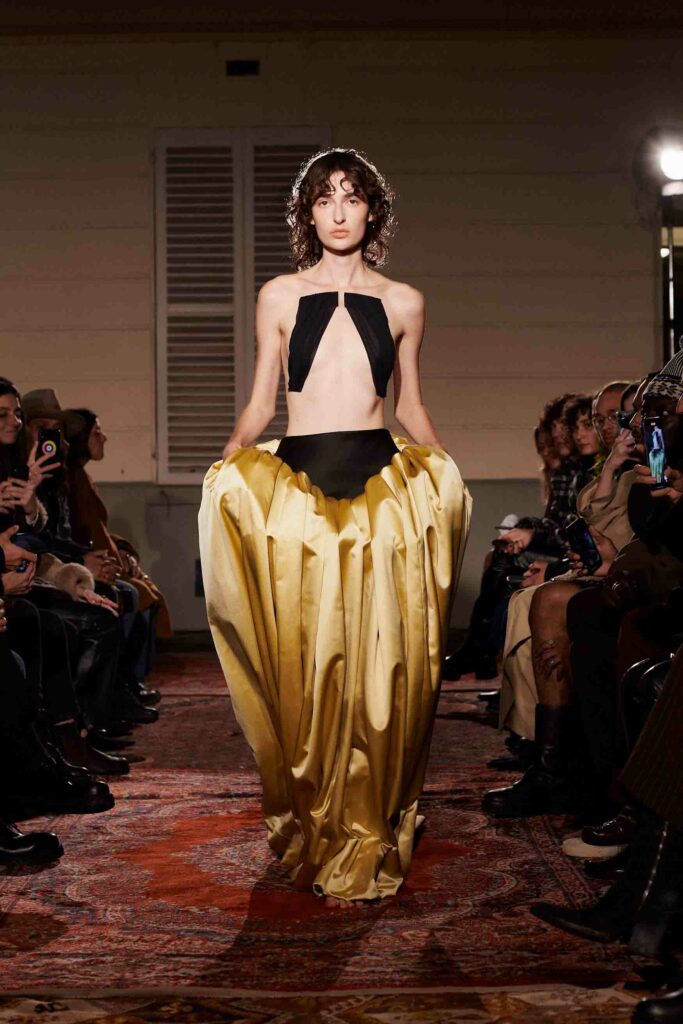 LOOK 22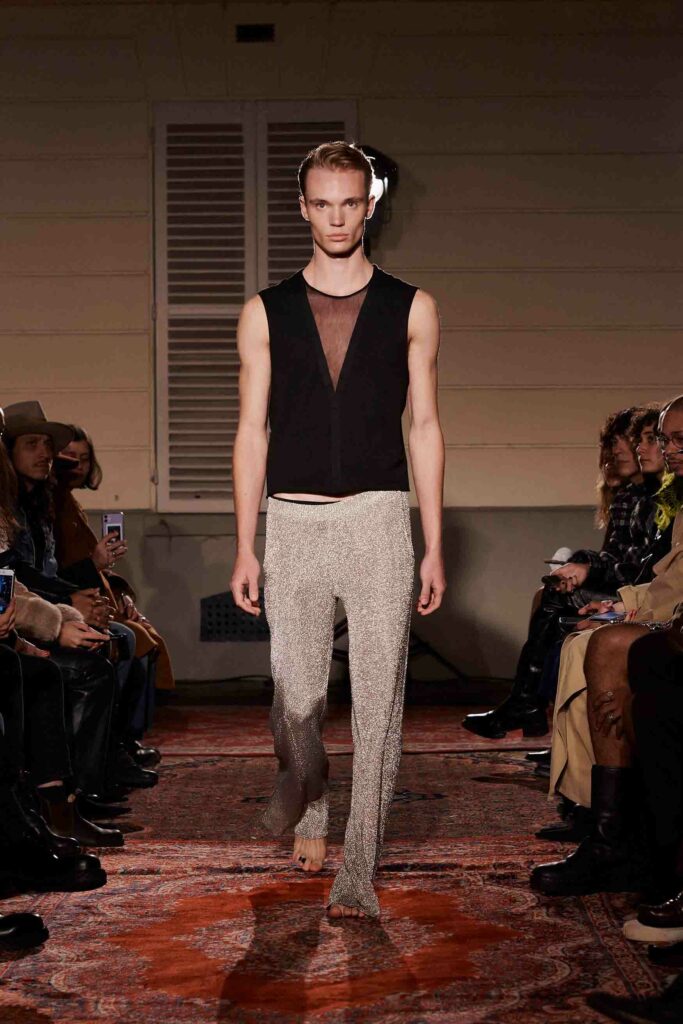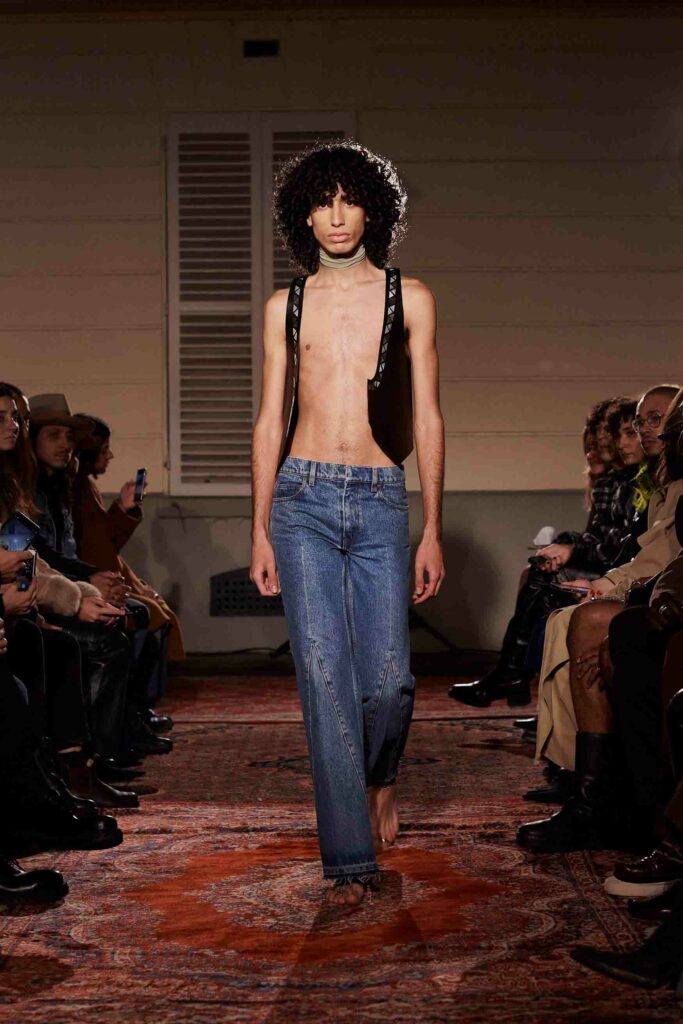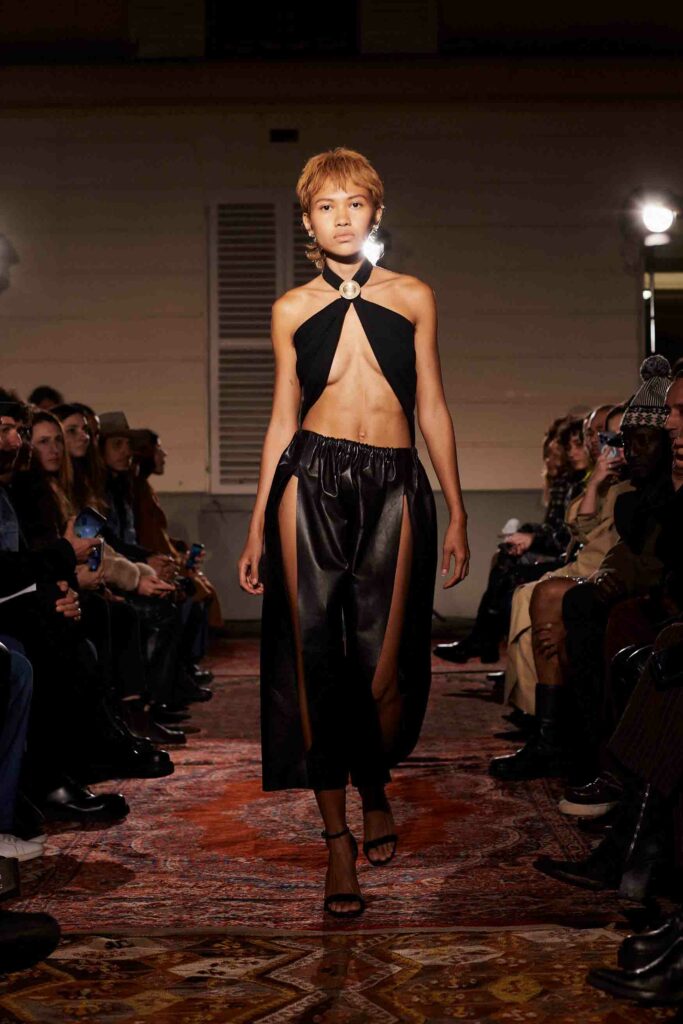 LOOK 26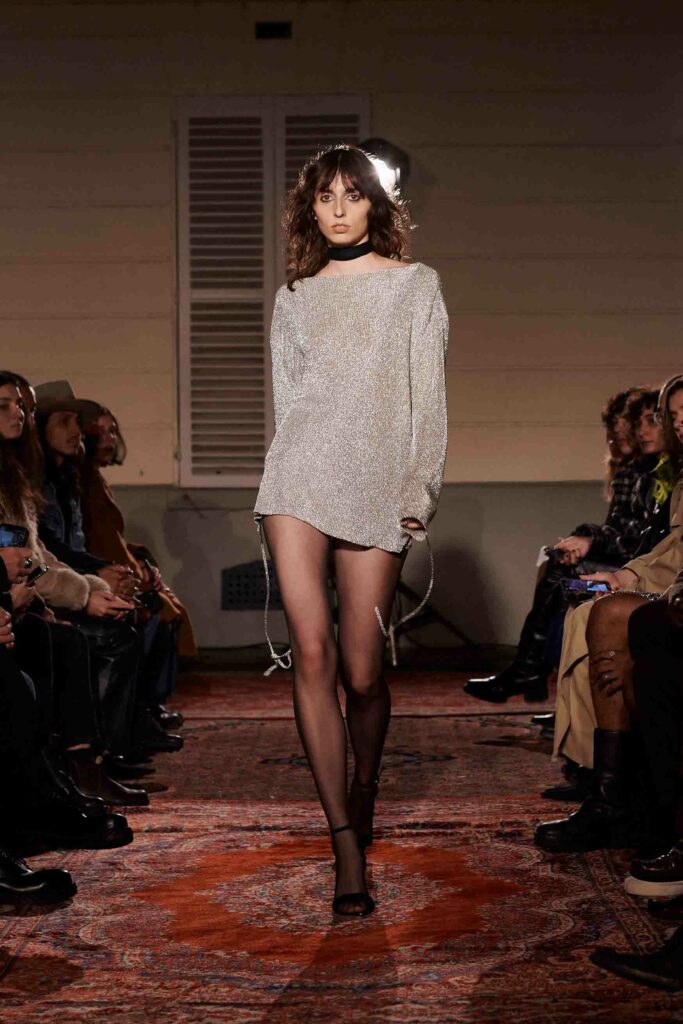 LOOK 27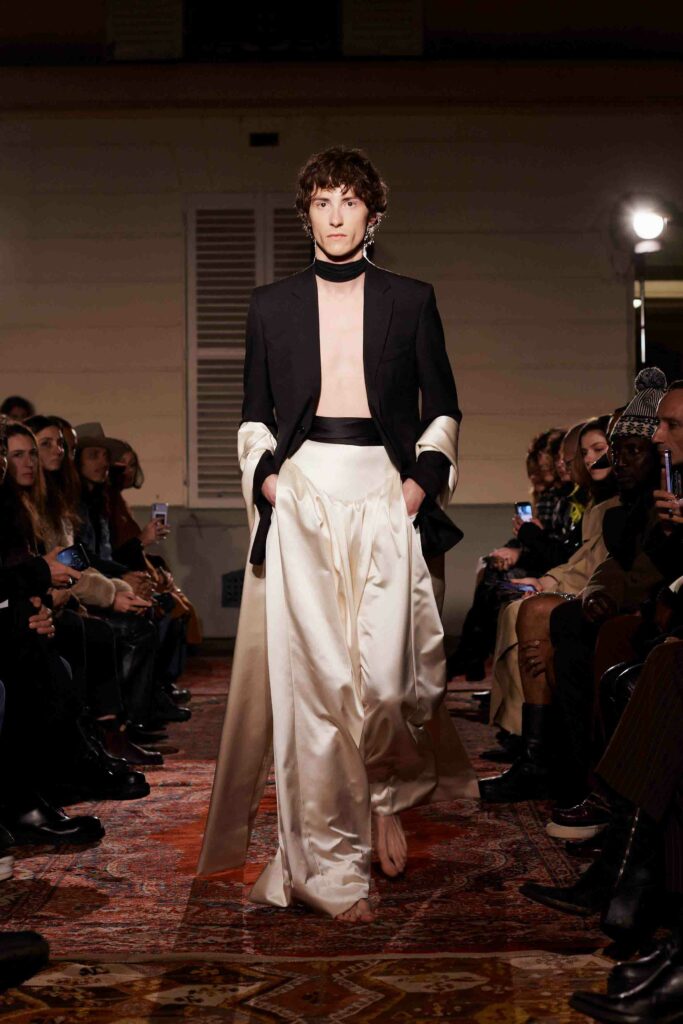 BURC AKYOL COLL 02 SUMMER, "DAVET"

ORIGINAL MUSIC BY LEGACY
CREATIVE CONSULTING MANON DEL COLLE
MAKE UP LEAD LAUREN BOS
WITH TEAM SHIN FENESTRE, CAMILLE IAM, OPHELIE CHAMBERS, MARIE VALLEE
HAIR LEAD CLEMENT BILLON
WITH TEAM VICTORIA PLEKHANOVA , ADRIEN TAVOLIERI, OCEANE BOURNIQUE, ANGELE FUMEY
CASTING JODIE RICCOBONO
PRODUCTION TWOTWENTY PRODUCTION
LIGHTS OLIVIER BOISSIERE
PHOTOGRAPHY SARAH WILLMEROTH
VIDEO ANTHONY GOUJJANE
INSTAGRAM LIVE THOMAS VILACA

SPECIAL THANK YOU TO
LEGACY, LUCIA NORO, CARLO CARRADORE, JEAN-LOUIS AND LE CHEMIN DES MAQUETTES, LES ATELIERS GRANDIS, NORA NADIFI, GONZALO CABALLERO, IRIS CROSNIER, MANON DEL COLLE, CLÉMENT BILLON, SIBEL TEKIN, GIADA MARINA GIORGIO, VERONICA LICCARDI, YIHAN HAN JEN, LAUREN BOS, EVA CLEMENTE, SHIN FENESTRE, THOMAS KERGOT LOUISE ROUGER MARIE DEBEACKER AND TWOTWENTY PRODUCTION, NICOLE BOUAZIZ, ALEXANDRA ET MICHAEL KRUCZYK-VALLÉE, THOMAS VILACA, ANTHONY GOUJ, SARAH WILLMEROTH, PASCALE ARNAUD, ELIOT LEBLANC-HARTMANN, JUSTINE PAQUETTE, ROMAIN ROMIEU, CLARA GRECO, POLIS AND UNIVERSE SCOUT AND STREET HUNTING, STUDIO PARIS MANAGEMENT, AURIANE BLANDIN- GALL, QUITTERIE LAFONTAINE, PAUL MERLOZ, JULIANNE COURTOIS, CORALIE PINATEL, MAXIME DURAND DURONSOY, MOUNIA NASSANGAR, HABIBITCH, MATTHEW BROOKES, PETER GRAY, JEAN-MICHEL MERGEY, SVEA GREICHGAUER, PAUL DUFORT, ESTEBAN WAUTIER, AYMERIC PICHEGRAIN, ELINE HOYOIS, VINCENT ZIMBERLAIN, LAURENT TYJOU, MY FAMILY, JONATHAN CARRETTA AND HUGO FERROUX.