" THOSE WHO RESTRAIN DESIRE DO SO BECAUSE THEIRS IS WEAK ENOUGH TO BE RESTRAINED." — WILLIAM BLAKE, THE MARRIAGE OF HEAVEN AND HELL
COLL 01 BEGAN THREE YEARS AGO. IT HAS BEEN A SPACE OF EXCHANGE BETWEEN YOU AND ME. I LAY DOWN MY OBSESSION FOR PANTELLERIA AND IT'S BLACK VOLCANIC ROCK, MY POLARIZED IDENTITY AND VOCABULARY – BOTH ORIENTAL AND PARISIAN, BOTH SEXUAL AND DISTANT. I BARED MY FETISH FOR BLACK TUXEDO-TAILORING AND THEIR SATIN NOIR AND MY ADMIRATION FOR WOMEN – SIRENS AND CARYATIDS, ELUSIVE LIKE WATER AND STRONG LIKE MARBLE.
NO ONE NEEDS REMINDING THAT WE'VE ALL HAD TO STAY AT A DISTANCE, WHICH SUITED ONE SIDE OF ME AND GAVE ME TIME TO TUNE MY LANGUAGE. BUT IT IS HIGH TIME I HAD THE CHANCE TO STEAM THINGS A LITTLE AND GET CLOSER TO YOU. I YEARNED TO GATHER YOU AND CELEBRATE THE MULTIPLE PARTS OF COLL 01 AS A WHOLE.
YOU ARE HERE, IN THE COURTYARD OF THE BUILDING WHERE I LIVE AND WORK AND MY SUPPORTING NEIGHBOURS ARE SEATED AMONG YOU. MY ATELIER IS HERE TOO, IN THE 8ÈME ARRONDISSEMENT OF PARIS, WHICH HAS A VERY COUTURE PERFUME TO IT, BUT AT THE SAME TIME WE ARE SECONDS AWAY FROM PLACE DE CLICHY AND IT'S URBAN SOUL : THIS IS WHERE THE IDEA OF RED PAVEMENT OR COUTURE DE RUE COMES FROM, THAT EVERY TIME YOU WEAR MY PIECES, YOU FEEL THE STREETS ANYWHERE TURN INTO A RED CARPET OF YOUR OWN. IN THIS NEW-WAVE GLAMOUR REALM, SWEATPANTS ARE MERMAID LEGS, SWEATSHIRTS ARE SILK TULLE DRESSES AND CARYATIDS VELCRO THEIR DRAPES.
AS WE CELEBRATE, WE CANNOT FORGET THAT WE HAVE EVEN STRONGER REASONS TO DO SO. THE UNIMAGINABLE OLD SHADOW OF WAR AT OUR DOORS REMINDS ME OF WHAT MY FATHER'S FAMILY HAD TO GO THROUGH WITH THE CIRCASSIAN DIASPORA OF 1864. THEY WERE DEPORTED FROM THEIR LANDS AND WE KNOW TODAY THOSE TERRITORIES AS RUSSIA. THEY FOUND REFUGE IN TURKEY, WHERE MY PARENTS COME FROM. MY HERITAGE IS IMPORTANT. THERE IS ADVERSITY IN IT, BUT ALSO BEAUTY AND TRADITION. I HAD TO BEAR ITS WEIGHT ON MY SHOULDERS AT TIMES ; MULTICULTURALISM CAN BE A BURDEN. SHOULDERS AND THEIR AMPLIFIED STRUCTURE ARE A MESSAGE OF PRIDE, DIGNITY AND COURAGE. THEY ARE INSPIRED BY THE KEPENEK, A TRADITIONAL TURKISH AND PERSIAN GARMENT USED BY SHEPHERDS TO SHIELD THEM FROM WIND AND SNOW. HERE THEY SHOW STRENGTHENED BONE STRUCTURES READY TO BEAR WHAT COMES OUR WAY.
HEAVY SUBJECTS CAN ALSO TURN INTO STRONG AND KINKIER MANIFESTS. TOXIC MASCULINITY AND ITS IMPRINT ON OUR DESIRE, OUR PSYCHE IS A SUBJECT I STARTED INTERROGATING WITH THE METAL HANDS BUSTIER. THE WEIGHT OF THE DOUBLE STANDARD ON WOMEN'S SEXUAL OWNERSHIP AND SOVEREIGNTY AND OUR OWN WORK AS MEN, EVEN GAY MEN IN THE ACKNOWLEDGMENT OF OUR SYSTEMATISM. WHY IS SUBMISSION A DEEPLY BURIED TURN ON? IT'S A QUESTION I MYSELF HAVE YET TO ANSWER AS A GAY MAN, BUT UNTIL I DO, I WEAR MY FETISH AS A SILVER CROWN WITH MY OWN FEET AS DECOR. AN IRREFUTABLE CALLING, A DUTY TO MYSELF.
THANK YOU FOR BEING HERE.
LOOK 01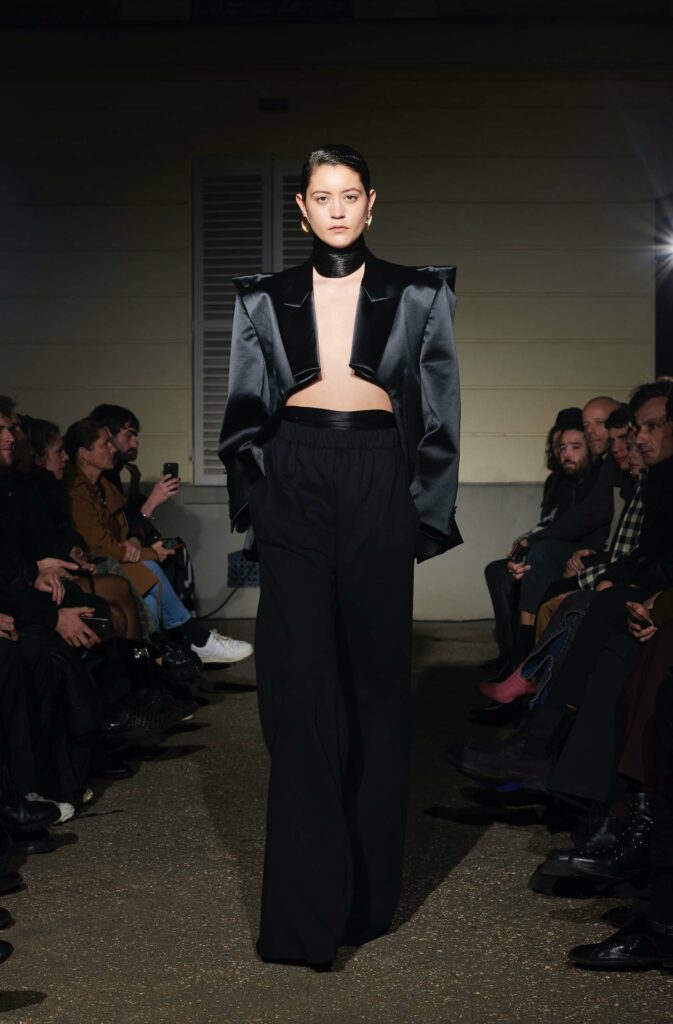 LOOK 02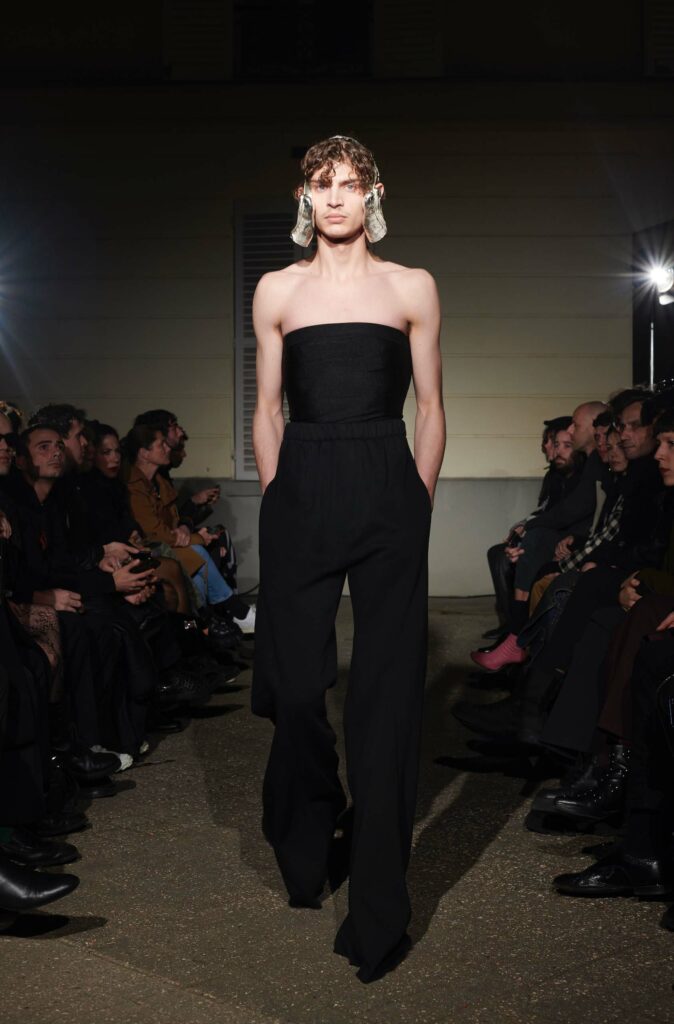 LOOK 03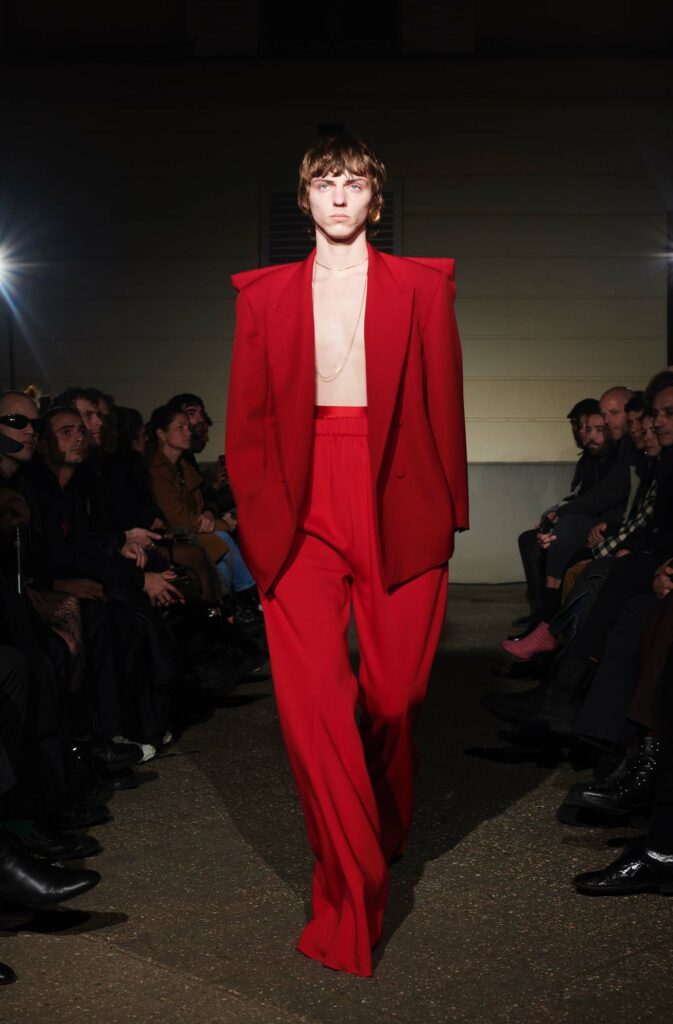 LOOK 04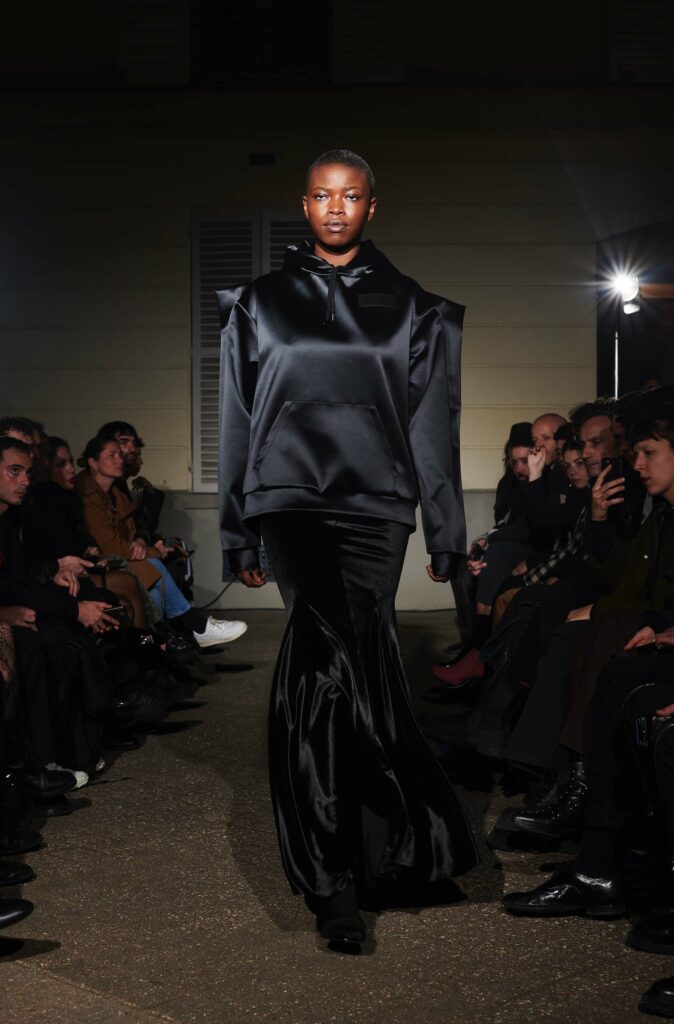 LOOK 05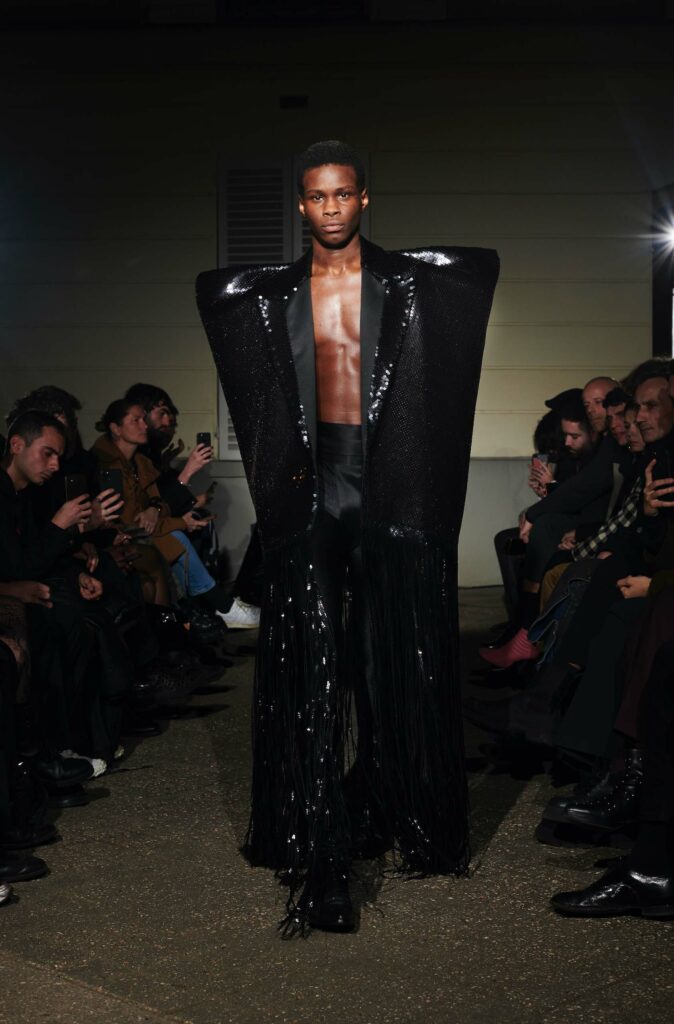 LOOK 06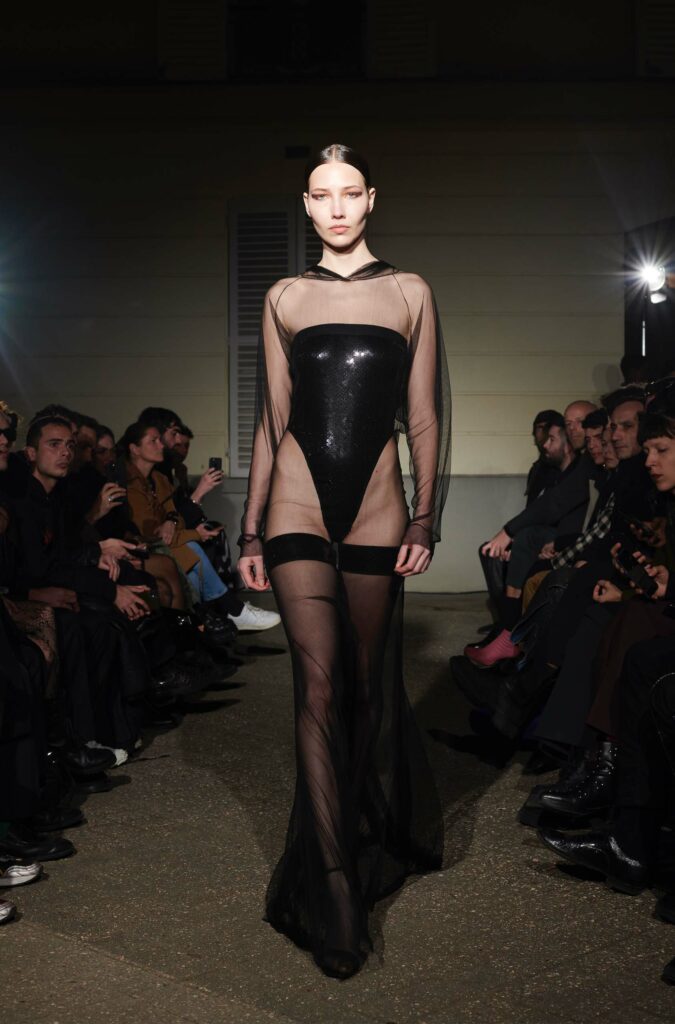 LOOK 07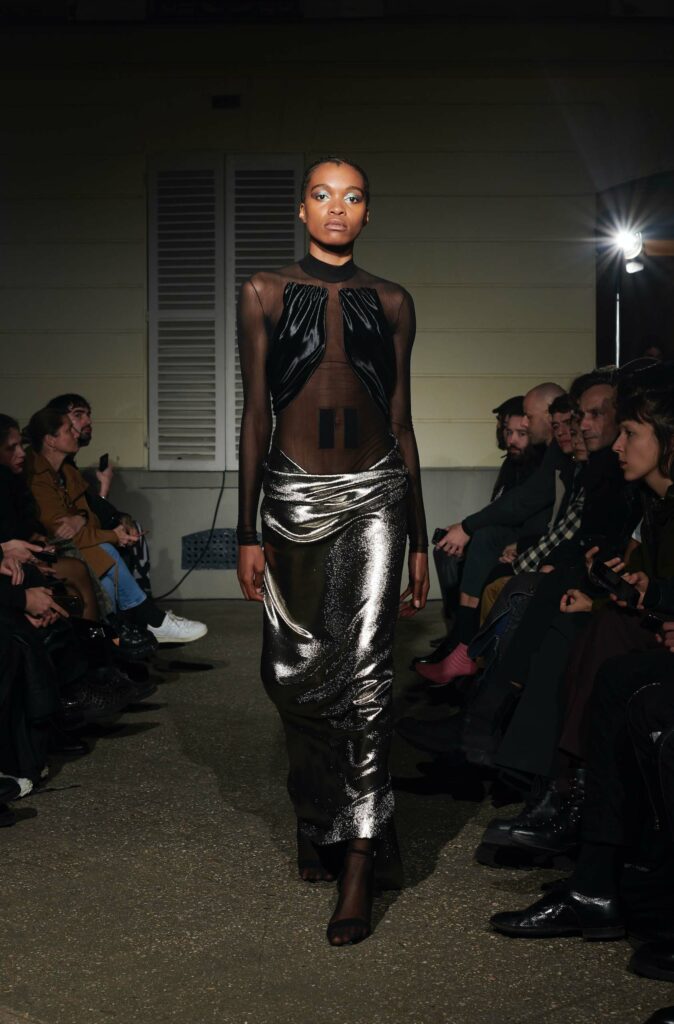 LOOK 08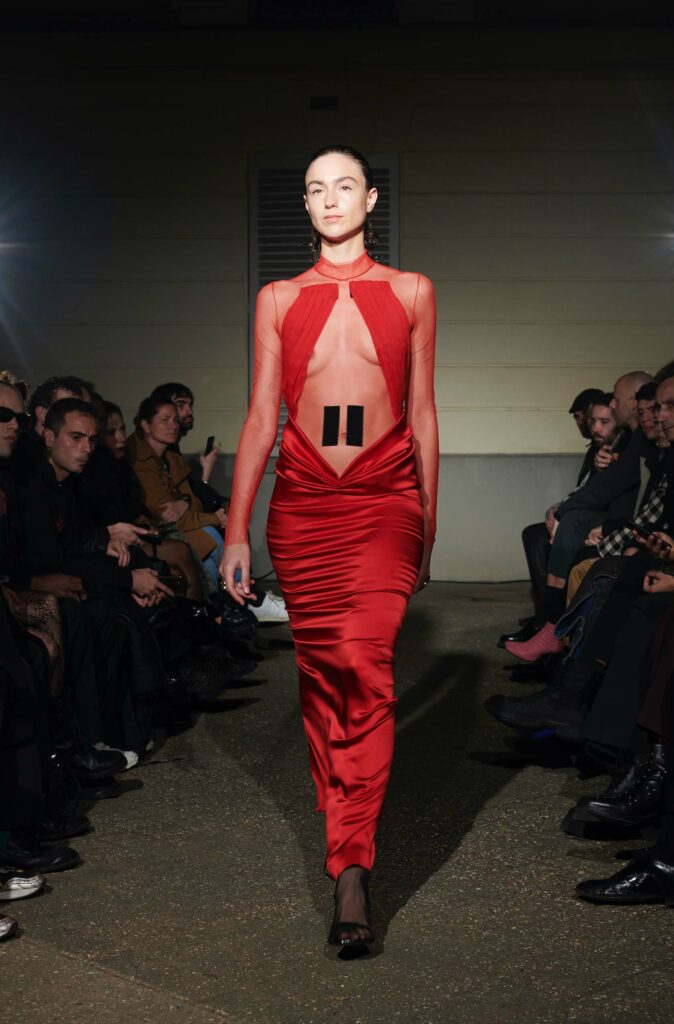 LOOK 09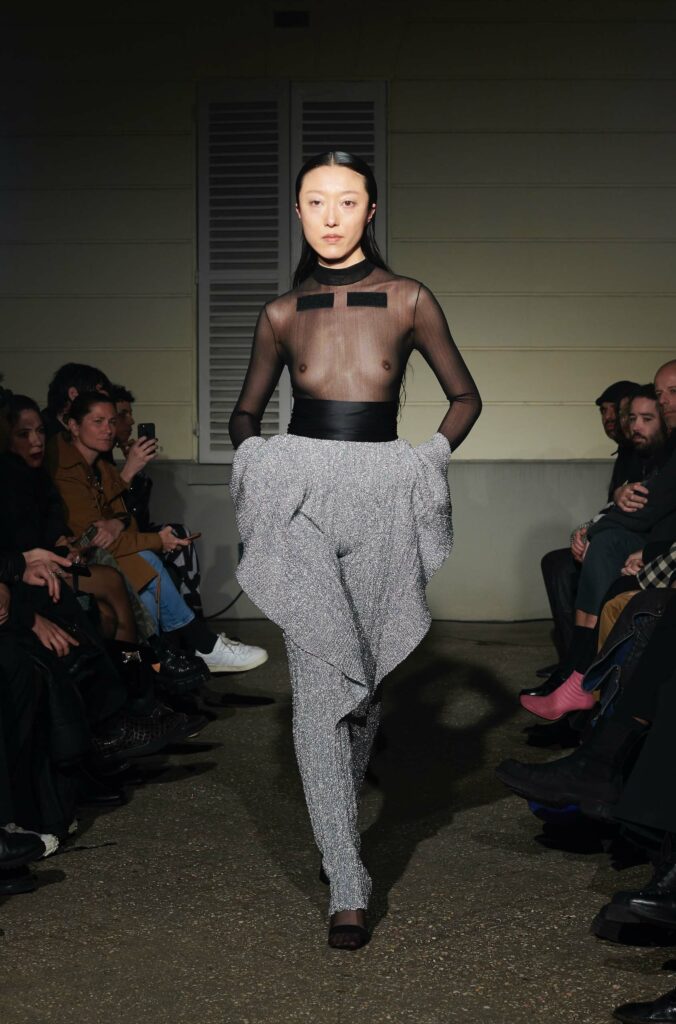 LOOK 10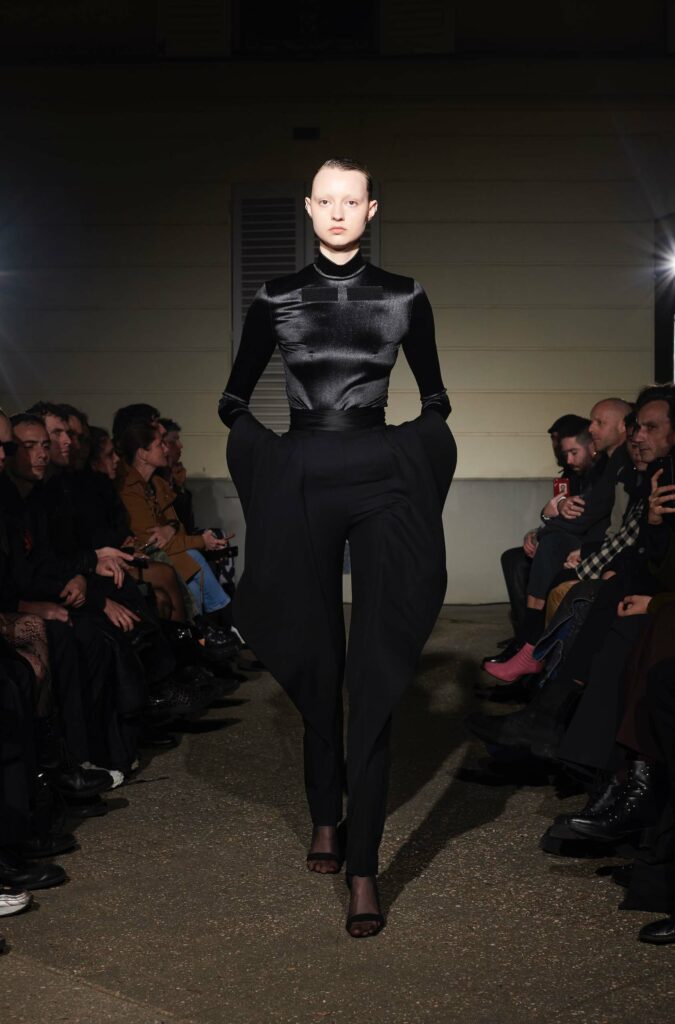 LOOK 11
LOOK 12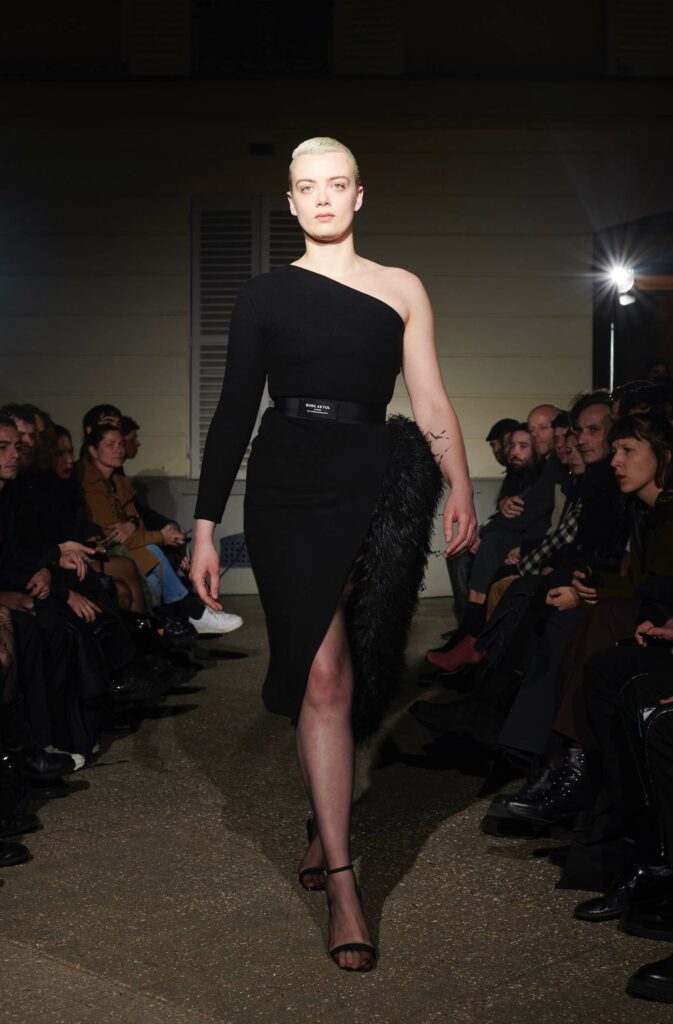 LOOK 13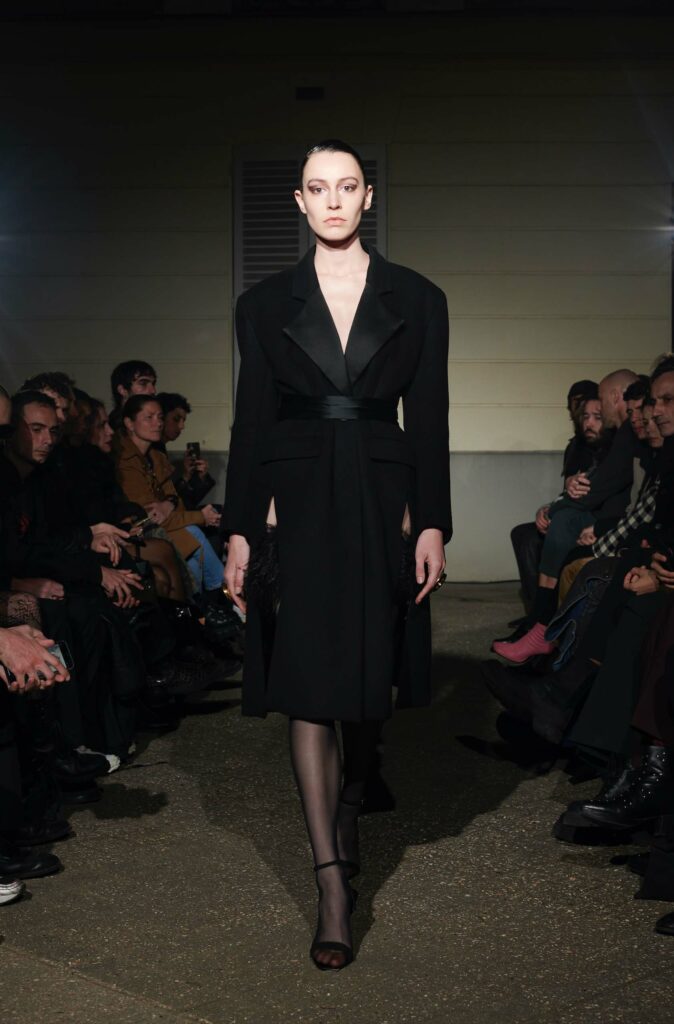 LOOK 14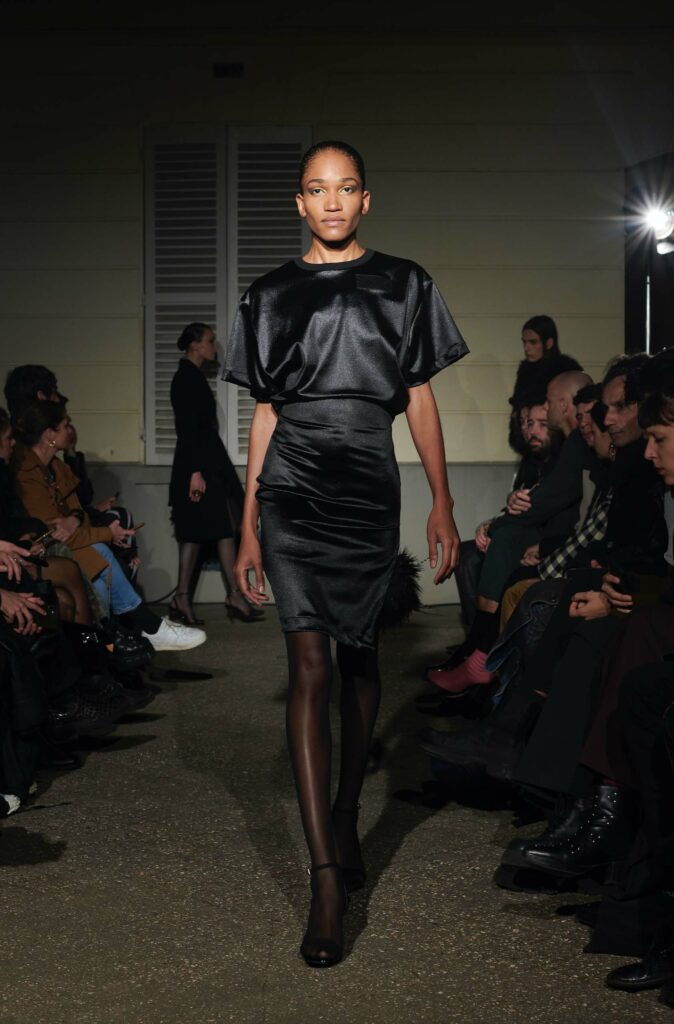 LOOK 15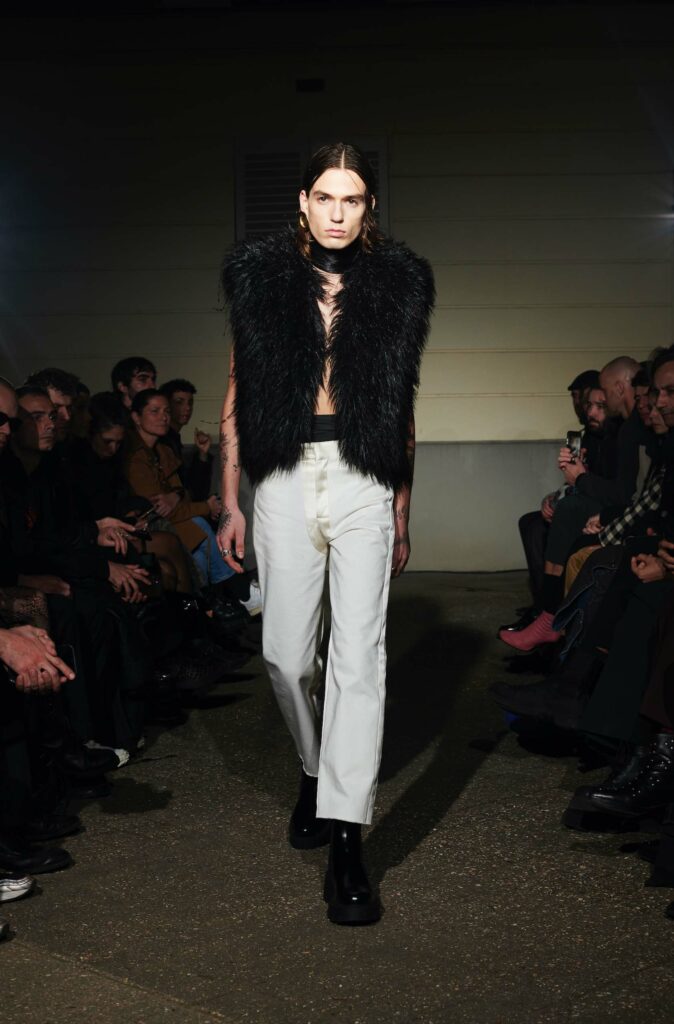 LOOK 16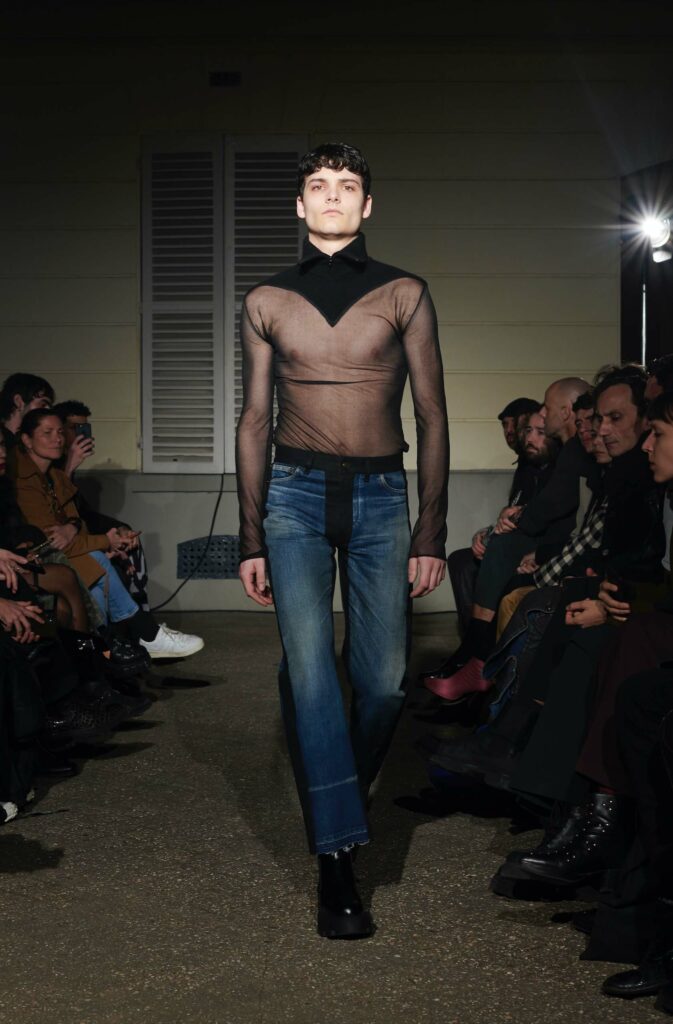 LOOK 17
LOOK 18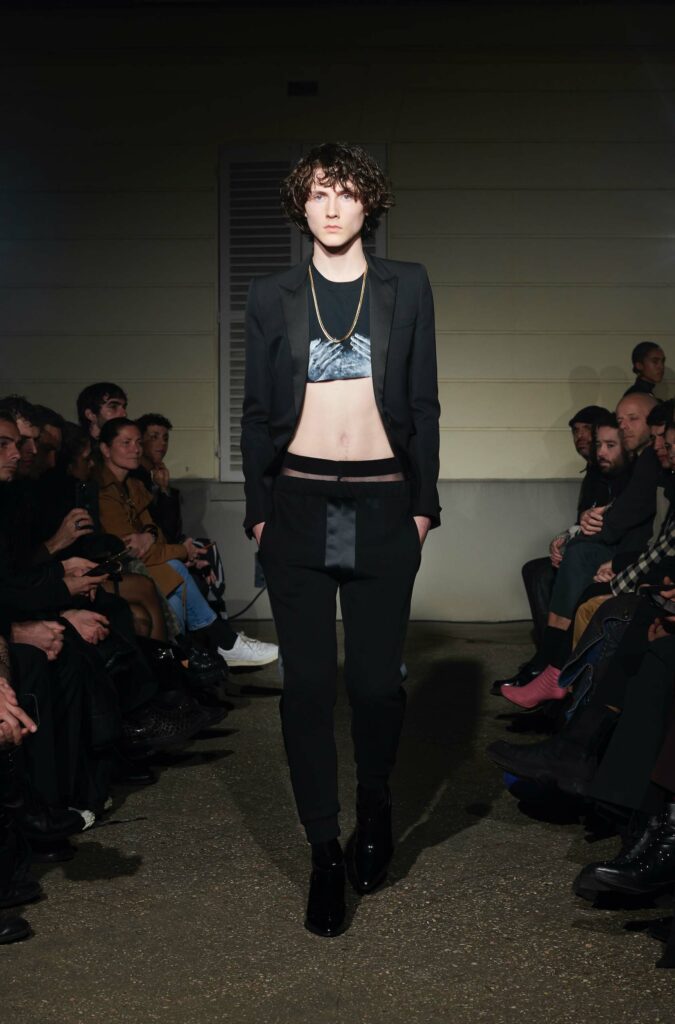 LOOK 19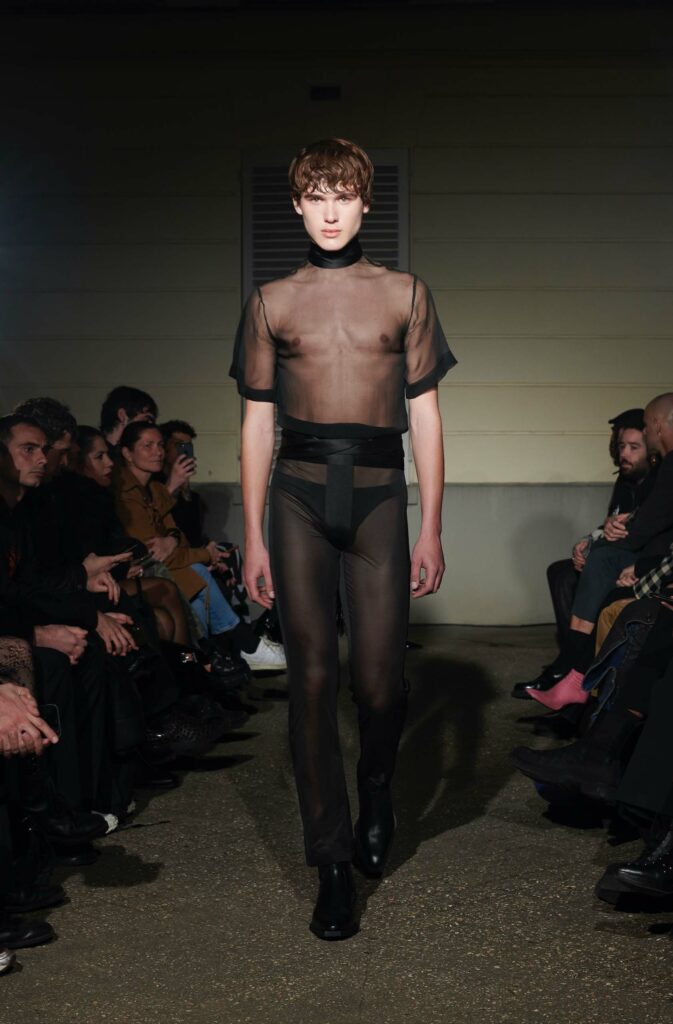 LOOK 20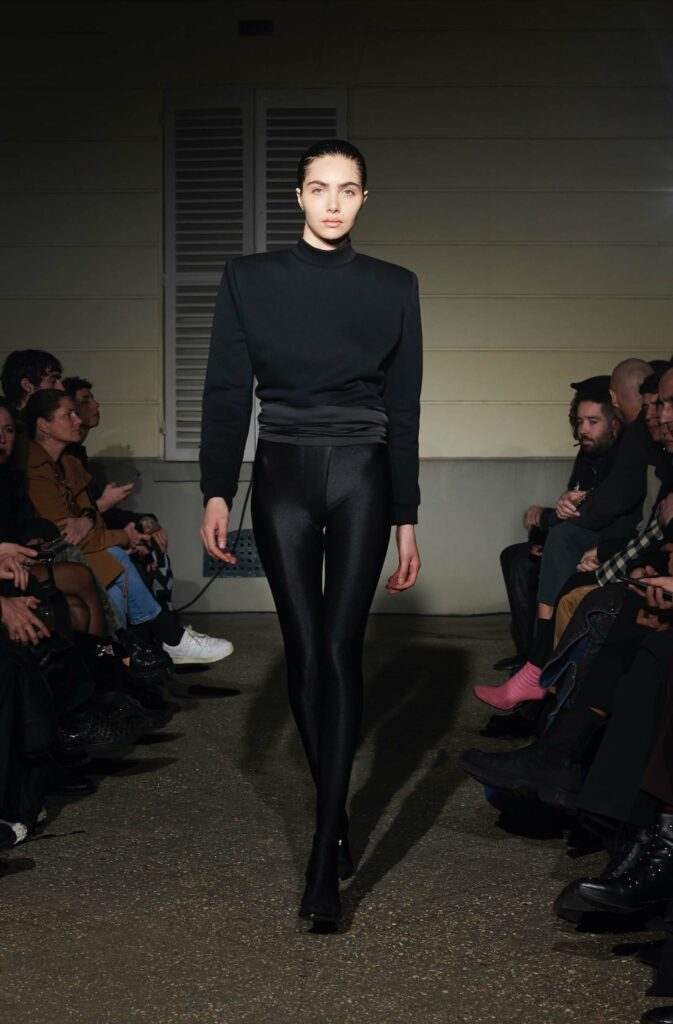 LOOK 21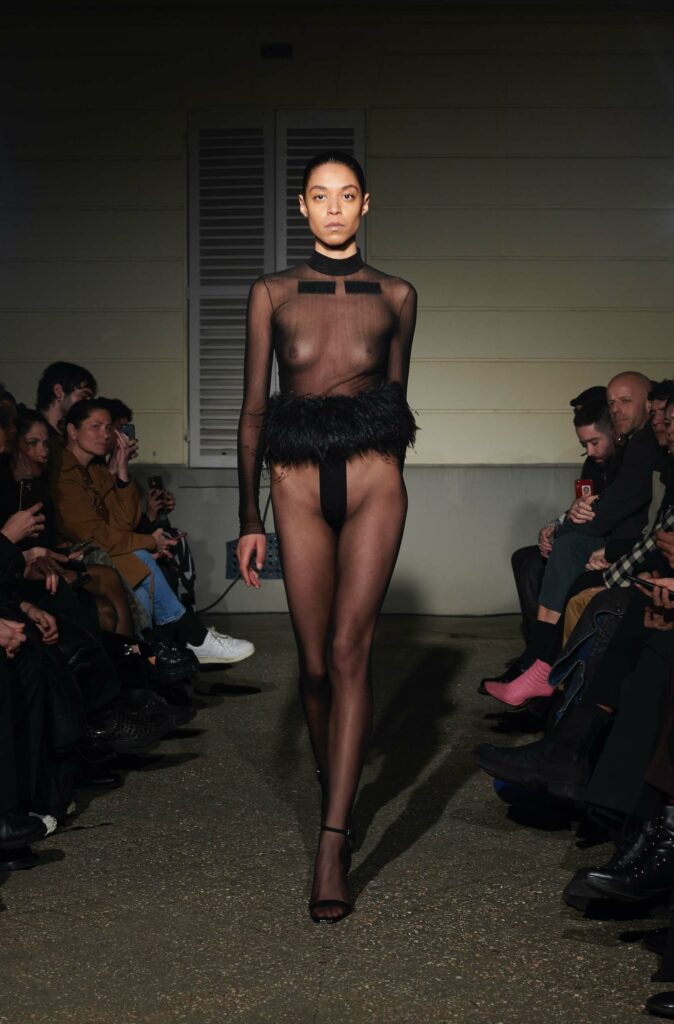 LOOK 22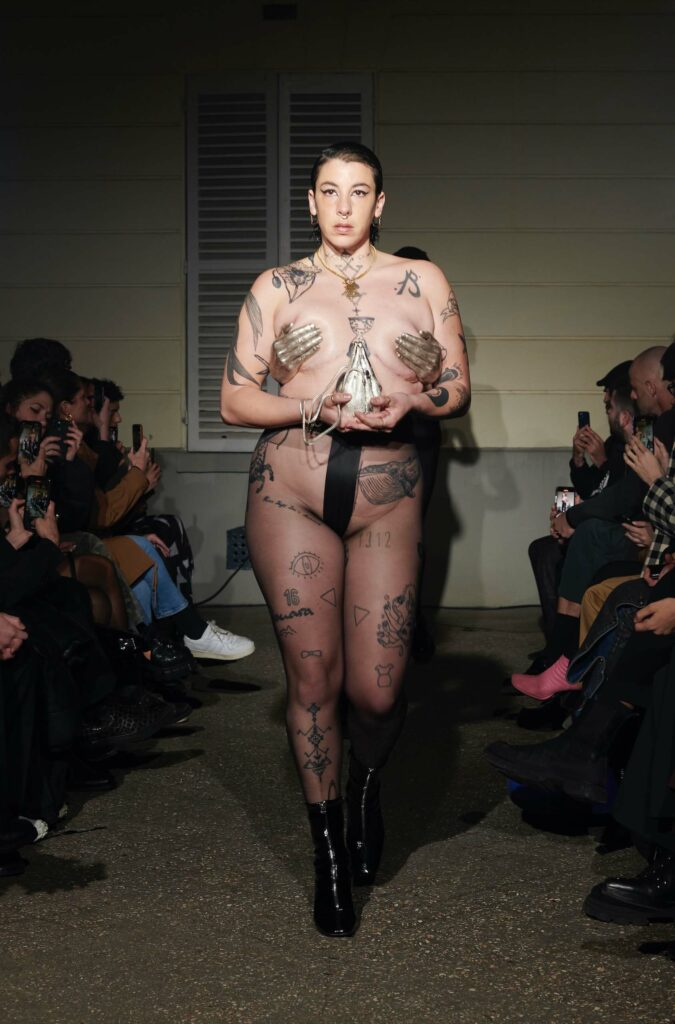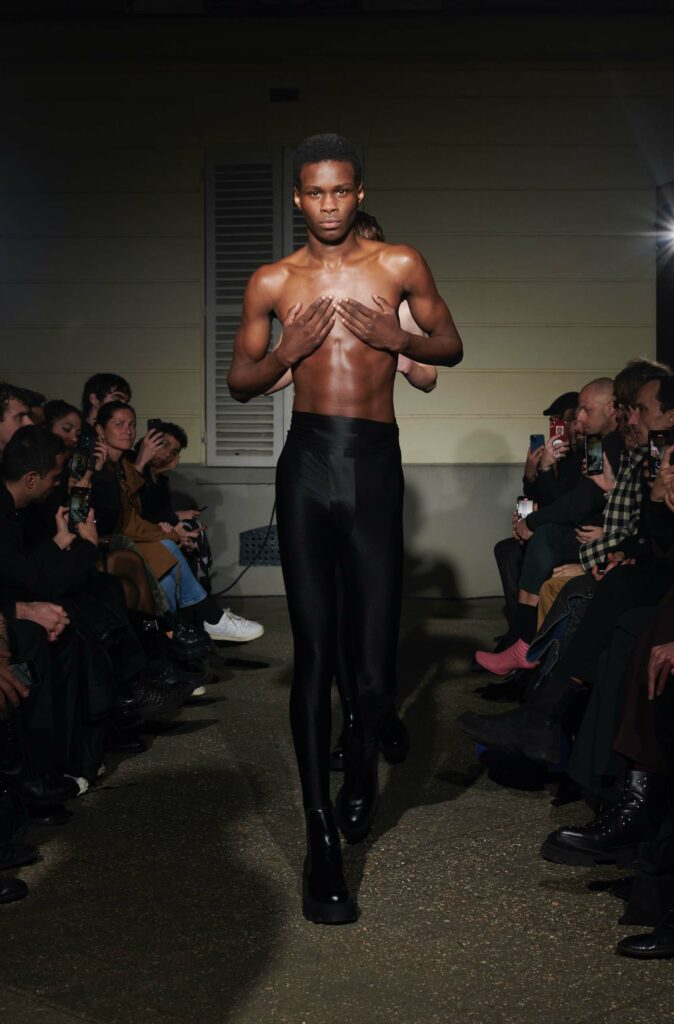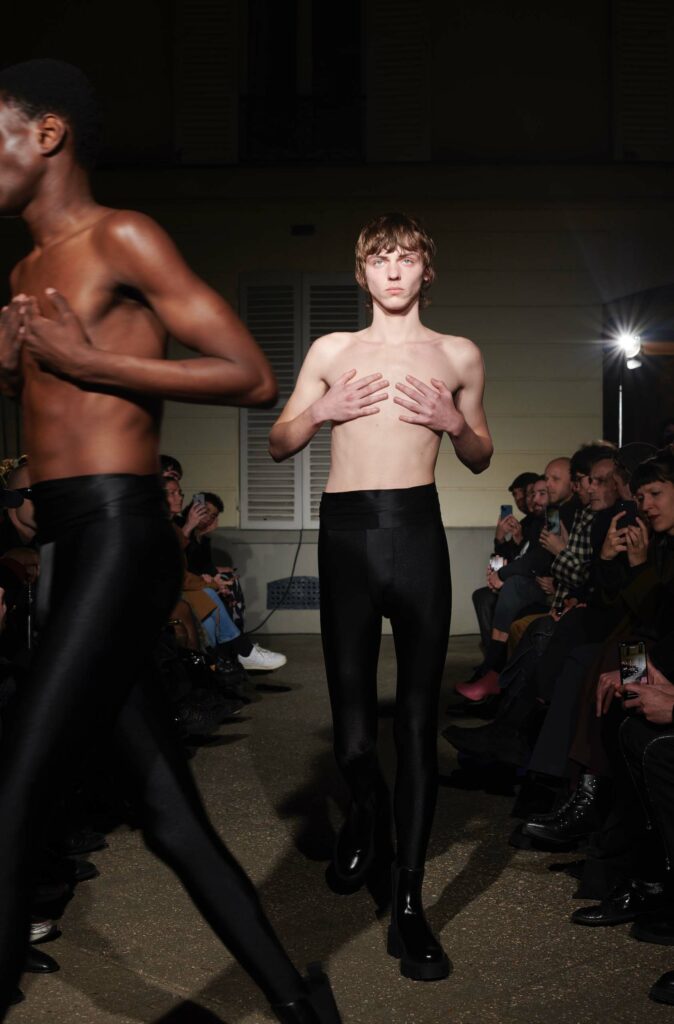 BURC AKYOL COLL 01 SHOW
STYLING BURC AKYOL
CREATIVE CONSULTING MANON DEL COLLE
CASTING BURC AKYOL WITH POLIS AT UNIVERSE SCOUT AND STREET HUNTING AND STUDIO PARIS MANAGEMENT
HAIR LEAD CLEMENT BILLON WITH TEAM SIBEL TEKIN, GIADA MARINA GIORGIO, VERONICA LICCARDI, YI-HAN JEN
MAKE UP LEAD LAUREN BOS WITH TEAM EVA CLEMENTE, SHIN FENESTRE, THOMAS KERGOT, LOUISE ROUGER
VIDEO ANTHONY GOUJJANE
PHOTOGRAPHY SARAH WILLMEROTH
INSTAGRAM LIVE THOMAS VILACA
PRODUCTION TWOTWENTY PRODUCTION
LIGHTS OLIVIER BOISSIERE
SET NICOLE BOUAZIZ
ORIGINAL MUSIC BY LEGACY
SPECIAL THANK YOU TO
LEGACY, LUCIA NORO, CARLO CARRADORE, JEAN-LOUIS AND LE CHEMIN DES MAQUETTES, LES ATELIERS GRANDIS, NORA NADIFI, GONZALO CABALLERO, IRIS CROSNIER, MANON DEL COLLE, CLÉMENT BILLON, SIBEL TEKIN, GIADA MARINA GIORGIO, VERONICA LICCARDI, YIHAN HAN JEN, LAUREN BOS, EVA CLEMENTE, SHIN FENESTRE, THOMAS KERGOT LOUISE ROUGER MARIE DEBEACKER AND TWOTWENTY PRODUCTION, NICOLE BOUAZIZ, ALEXANDRA ET MICHAEL KRUCZYK-VALLÉE, THOMAS VILACA, ANTHONY GOUJ, SARAH WILLMEROTH, PASCALE ARNAUD, ELIOT LEBLANC-HARTMANN, JUSTINE PAQUETTE, ROMAIN ROMIEU, CLARA GRECO, POLIS AND UNIVERSE SCOUT AND STREET HUNTING, STUDIO PARIS MANAGEMENT, AURIANE BLANDIN- GALL, QUITTERIE LAFONTAINE, PAUL MERLOZ, JULIANNE COURTOIS, CORALIE PINATEL, MAXIME DURAND DURONSOY, MOUNIA NASSANGAR, HABIBITCH, MATTHEW BROOKES, PETER GRAY, JEAN-MICHEL MERGEY, SVEA GREICHGAUER, PAUL DUFORT, ESTEBAN WAUTIER, AYMERIC PICHEGRAIN, ELINE HOYOIS, VINCENT ZIMBERLAIN, LAURENT TYJOU, MY FAMILY, JONATHAN CARRETTA AND HUGO FERROUX.